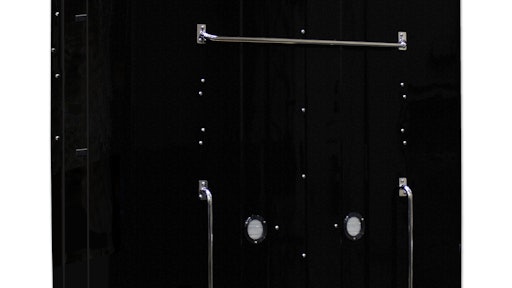 Quantum Fuel Systems Technologies Worldwide Inc. (QTWW), a leader in natural gas storage systems, integration and vehicle system technologies, announces it has completed and launched a revolutionary three-tank back-of-cab CNG module with an innovative configuration that can provide up to 180 diesel gallon equivalents (DGEs). Quantum received pre-orders for this new system prior to launching its broad-scale sales and marketing campaign during the second half of 2015. The new system can be configured for 160 or 180 DGEs in a single package and incorporates a revolutionary and cost-effective 30 in. diameter storage tank. UPS is the first customer of Quantum's early production Q-Cab160 Series and recently took delivery of early-production systems for installation on Kenworth T680 Series tractors.

Quantum has a history of bringing innovative CNG products to market, most recently to serve the heavy-duty over-the-road transportation market. In 2010, Quantum launched a first-of-its-kind 25 in. diameter type IV composite CNG tank targeted at heavy-duty Class 8 trucks requiring high capacity fuel storage solutions. In the years that followed, Quantum introduced a family of composite cylinders to satisfy a variety of customer requirements and configurations. In connection with its pursuit of a system strategy in the heavy-duty vehicle market, Quantum introduced several CNG storage modules in 2014 including its Q-CabLITE, the lightest-weight and most storage efficient three tank back-of-cab system in the industry. Now in 2015, Quantum has established a new standard for back-of-cab storage and capacity by commercializing a 180 DGE system, offering the lightest weight and highest capacity per DGE system in the industry. While engineering new standards for CNG fuel modules, Quantum is able to offer fleet operators the needed capacity in a single module and the benefit of weight reduction and fuel efficiency.

"We are pleased to have UPS take advantage of our latest technology and system designs, enabling them to reduce weight and drive efficiency through their delivery fleet," says Brian Olson, President and CEO of Quantum. "Our intimate knowledge of CNG tanks and unique ability to engineer and commercialize our own creative tank products inside our innovative system designs, offers the industry forward looking solutions to satisfy evolving requirements to drive longer distances, minimize weight and simplify the system for servicing."