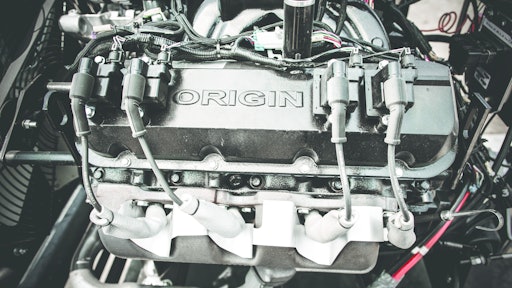 When thinking of alternative fuels within the heavy-duty equipment industry, propane is not usually the first that comes to mind. School buses or lawn and garden applications such as commercial mowing tend to be the more commonly known uses. However, its use as an alternative to diesel is beginning to grow within heavier duty, high-horsepower engine applications in the off-road industry.
"For years, we've known that in horsepower engines of this size range, propane really performs well whether we compare it to gasoline or diesel," says Tucker Perkins, Chief Business Development Officer at the Propane Education & Research Council (PERC). The key driver motivating the shift to propane has been the introduction of Tier 4 Final emissions regulations. "Tier 4 Final has made a diesel engine so complex, heavy and expensive that all these manufacturers of engines and the people that have to maintain them are looking for a reasonable solution," says Perkins.
And the solution many are starting to look towards is propane. According to Perkins, propane engines are capable of providing the same attributes as a diesel engine but in an easier-to-use form. "With propane, we're able to achieve the same emissions standards with a simple three-way catalyst, and simple controls.
"We don't see any alternatives to the complexity of a Tier 4 Final diesel engine," he continues. "There's really no radical emissions technology or engine technology on the market that seems to be a breakthrough, and so I think it solidifies propane's place as a reasonable alternative fuel to diesel." When looking at the costs associated with an engine—the initial purchase, fuel, maintenance, and storing and transporting the fuel—propane's total cost of operating provides a more cost-competitive option. Though diesel and gasoline prices fell in the last half of 2014, they fluctuate constantly and the cost of propane has typically been lower, enabling fleets to save on refueling costs.
Perkins notes that even though PERC and others have been working to demonstrate propane as a viable alternative to diesel, people often need a cataclysmic event of some sort to create a need for them to change. Otherwise, if they're happy with the status quo they see no reason to change. "We've been given that event in this Tier 4 Final emissions standard, and the shock to users in the purchase cost and maintenance complexity," he says.
Expanding into other markets
The school bus and mowing industries continue to be the strongest markets for propane use; Perkins says the mowing sector is actually entering another phase of growth as more manufacturers and customers see the benefits propane can provide. PERC is beginning to see the use of propane expanding into man lifts and material handlers, as well as the construction rental equipment market in products such as tree chippers, trenchers and compactors. "A lot of it is just organic from the market," Perkins says, "which is really exciting. You see the market is clambering for it and the manufacturers can deliver [the technology] easily.
"And we'll continue to evolve," he continues. "We're starting to move into some higher horsepower applications that are very applicable to mining and off-road construction. We're in the very beginning stages of that."
One of the challenges with moving into the higher horsepower applications is ensuring the products introduced not only offer a lower total cost of ownership, but also durability and maintenance benefits that are equal to, if not better, than diesel or gasoline engines. "The diesel product is a good product in terms of durability and overall longevity," says Perkins. "That's something we always work really well with the manufacturers on, to see that we bring durable and reliable products to market."
The other challenge with bringing propane to new markets is getting the industry comfortable with finding a new fuel source. Many diesel fuel providers also supply propane, which makes this a slightly easier task, but Perkins says it's still necessary to ensure a quality fuel supplier is found to help make the transition to propane easier for customers. The way PERC aims to overcome this and other challenges is through education, training and experience in bringing propane to other markets, such as the school bus industry.
Also aiding the transition to higher horsepower applications has been the introduction of dual-fuel engines using both diesel and propane. Though mainly in the on-road market currently, Perkins notes on-road engines tend to have stricter emissions standards, reliability and durability requirements to meet. Knowledge gained from having to meet these stricter requirements can then be applied to the development of off-road engines.
The dual-fuel engines are typically being used in applications running large engines for several hours as a means of reducing fuel costs. As such, Perkins says adoption of dual-fuel engines has quickly been expanding into higher horsepower off-road markets including mining and heavy forestry. Both of these industries use equipment which runs for several hours at a time and would therefore benefit from using engines that can be powered by a lower-cost fuel like propane.
Perkins says dual-fuel engines are a good way to turn the off-road market onto propane not only for the cost and emissions savings, but also for familiarizing people with the technology. That way, once dedicated propane engines in higher horsepower ranges are developed, the industry will be more comfortable with the technology and thus apt to use it. "We're in the infancy of people being as familiar with propane as they are with diesel or gasoline, and that familiarity is only going to increase its usage," says Perkins.
As with any new technology, development and commercialization is dependent upon market use. "It's the age old question, 'Do you make the investment and hope you can demonstrate the benefits and features to the market, or do you try to get the market to come along with you?'" says Perkins. The dual-fuel engines provide manufacturers the opportunity to test the waters on potential market adoption of propane without having to potentially invest millions of dollars in an engine program that customers may not buy.
As part of its efforts to expand market adoption of propane engine technology, PERC has been working with industry partners to identify additional opportunities for propane engine in mobile, off-highway applications and is currently evaluating the performance of a prototype propane tractor. "The tractor performance is every bit as good as we expected," says Perkins. "Our goal right now is to show it to dealers and have it work in the farm fields and in highway mowing yet this year."
The two main market segments Perkins says products like a propane-powered tractor will most likely be attractive to is agricultural operations looking to reduce their environmental impact and fleet operations also looking for environmental, as well as cost, reductions.
Perkins says the off-road segment is becoming increasingly more important to PERC, and will be a key area of focus in 2016. Where just five years ago, he says there were maybe four or five pieces of equipment in a rental yard or dealer lot that could be fueled by propane, today that number is up to 10 or 11 and by the end of 2016 anticipates it will reach 15 or 20. "Again, it's just all driven because the manufacturers are looking for a simpler, cheaper engine to produce while the users are looking for an engine that's quieter, more fuel efficient, less polluting and easier to maintain. The market is just running to propane, which is a beautiful thing."