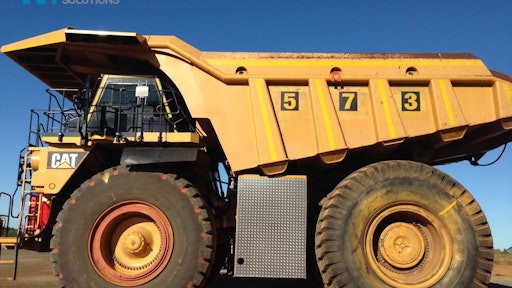 In June of this year, Mine Energy Solutions (MES) and The IntelliGas Group successfully tested a prototype high density compressed natural gas (HDCNG) fuel system in a large mining truck in Australia. Installed on a dual-fuel Caterpillar 789C mine truck, the system enabled the truck to achieve 90% fuel displacement during typical drive cycles.
The mine truck included a CAT 3516B engine equipped with IntelliGas' engine monitoring, fuel management and other HDCNG technologies. These components are part of the suite of technologies, known as Cool5000, developed by IntelliGas for the production, storage, dispensing and utilization of HDCNG. The entire suite includes:
iStore high density storage and dispensing modules
ChillFill chilled cylinder filling process
HDCNG fuel pack
A booster for HPDI engines
Advancements in high horsepower natural gas engine technology—available in dual fuel, spark ignition and diesel cycle (HPDI) models—and fuel systems has increased natural gas' viability in higher horsepower applications. With the IntelliGas system, fleets can get the high density performance they need from the CNG in these applications, along with the cost- and emissions-reduction benefits of using natural gas.
The HDCNG fuel system delivers sequential gas injection with individual cylinder combustion monitoring and control. According to MES, the fuel can be stored at pressures up to 350 bar which allows up to 12 hours of continuous operation depending on drive cycle. The company says gas substitution can be adjusted in order to optimize refueling frequency according to the operating conditions at a fleet's job site.
Cylinders used to store fuel on the mine truck are based on carbon fiber technology used in space shuttles and Formula 1 racing. They are lightweight so as not to add too much weight to the vehicle while also being extremely durable, enabling them to withstand the harsh operating conditions of a mine site.
Benefits of using HDCNG
HDCNG has about twice the energy density of CNG, making it well suited for use in heavy-duty trucking and other high horsepower applications such as mining. CNG is becoming a readily available, domestically sourced fuel in many countries which is making it, and thus HDCNG, a more affordable option. In addition, like other natural gases it produces fewer emissions and offers ease of storage, transport and handling benefits. During testing of the mine truck, drivers also reported improved comfort due to reduced noise and vibrations, further adding to the benefits of using HDCNG over diesel.
"This [HDCNG] will allow mine operators to reduce their fuel costs, cut carbon emissions by up to 25% and significantly reduce harmful particulate pollution without compromising on vehicle performance," said MES Executive Director Craig James in a press release about the testing of the mine truck in Australia.
MES' ultimate goal is to provide fleets with an end-to-end solution for HDCNG utilizing the IntelliGas Cool5000 suite of technologies. The company will convert engines, source natural gas, compress it to HDCNG, as well as transport it to mine sites and provide the re-fueling systems.