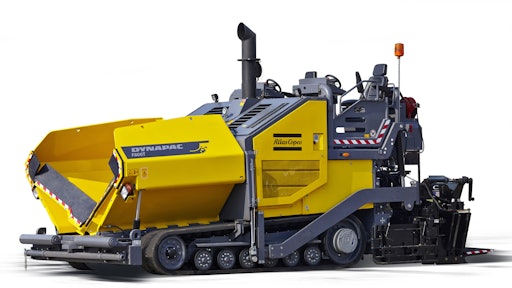 Atlas Copco's new Dynapac F800T tracked paver joins the company's 10-foot highway class paver range. The new paver meets Tier 4 Final emission regulations and enhances productivity through operator comfort and optimal visibility.
The operator has high visibility of the paving surface with the paver's dual, swing-out operator platforms. The dual operator platforms swing out from each side to give the operator a clear view of the worksite. The platforms also eliminate operator fatigue from prolonged leaning that can occur when an operator strains in a stationary seat to get a clear view of the work surface.
Ergonomically designed control panels allow the operator to focus on paving and look out for nearby workers. All control and operational switches are grouped according to purpose and frequency of use, which allows the operator to quickly adjust paving settings without hampering production or risking safety.
The F800T is equipped with a six-cylinder, Cummins diesel engine that meets Tier 4 Final emission standards and minimizes ownership costs. The six-cylinder engine reduces strain on engine components that typically occurs with four-cylinder engines, which as a result, minimizes maintenance costs and servicing downtime.
Atlas Copco designed the F800T with features that maximize mat quality and tackle varying job requirements. Its exclusive, Dynapac feed control system, for instance, eliminates material segregation and ensures continuous, uniform material flow by using four ultrasonic sensors and one of the industry's thinnest center chain box auger systems. The four sensors detect material heights and gaps to optimize both the auger and conveyor speed. The conveyor's 6-inch-wide chain box is the thinnest in the industry, which ensures continuous, uniform material flow to the center of screed. And the augers have 17-inch diameter flights – among the largest in the industry – that eliminate centerline segregation. The paver also can be equipped with an optional, integrated hydraulic tunnel to eliminate material spillage toward the track and provide efficient material head.
The F800T is equipped with an industry-proven Carlson EZIV08-15 front-mounted electrical screed. The screed gives the operator an 8- to 19-foot working width and a mat as high as 1 ft. A 34 kW, hydraulically driven generator heats the screed to eliminate sticking and maintains a frequency control at 60 hertz regardless of the load or speed of the engine, which allows users to connect night lighting accessories to the machine. Atlas Copco also offers safety edges, berm attachments and bolt-on extensions for greater paving efficiency.
The paver requires minimal maintenance, which safeguards the operator's uptime. The multifunction display on both operator consoles shows any engine- and paver-related fault codes so operators and technicians can diagnose problems and choose corrective actions. Quick disconnect fittings and centrally located filters reduce scheduled service downtime because they are easy to access and replace.