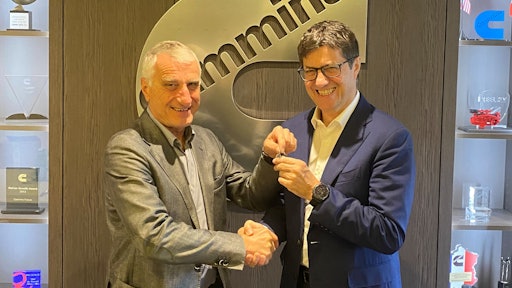 Cummins Inc.
Cummins Inc. has announced that the company completed the acquisition of Cummins France, one of the last major independent Cummins distributors in Europe. This strategic move represents a significant milestone for Cummins in Europe and underlines its commitment to providing superior services and innovation in the European market. The acquisition will allow Cummins to leverage its vast experience, resources, and industry knowledge to further enhance its presence in the region.
Cummins NV, a company of the Cummins Inc. group, and SAS Cumfin have closed an agreement under which Cummins has acquired 100% of the shares of Cummins France S.A. The acquisition of Cummins France S.A. includes the interests held in their subsidiary Cummins Energie Algerie in Algeria.
The transaction was closed Oct. 31, 2023, by Cummins Vice-President Off Highway, Engine Business & Europe ABO Leader, Antonio Leitao, and by Cumfin and Cummins France Owner and CEO, Rainer Wissmanns, who has led the Cummins France organization for many years, since it was founded in 1996. During this time, the Cummins France organization has grown from a small local distributor of the global Cummins organization, to become a thriving company supporting customers across the country, establishing offices in Lyon and Nantes, building a strong dealer network, together with its subsidiary business in Algeria.
Under the agreement, Cummins France becomes part of Cummins' European Distribution Business, and will continue to operate under the Cummins brand, preserving the strong relationships the company has built over many years, ensuring a seamless transition for customers, suppliers, and partners. The acquisition is part of Cummins' strategic global approach to direct ownership of the distribution channel and enables the company to further strengthen its business across the region whilst remaining committed to delivering excellence in customer service.
Customers will benefit from a "One Cummins" approach as the company leverages its collective strengths, including skills, experience, and assets from across the region, together with considerable European market knowledge and product application understanding.
The move also underlines Cummins commitment to delivering quality products and services that meet the evolving needs of customers, backed by the trust and reputation built over the company's rich, 100-year history. The organization will support innovation and sustainability as Cummins drives towards the development of environmentally responsible technologies that address the growing need for cleaner energy solutions.
As part of the transition, the company has announced Catherine Sannier as country leader for Cummins France, who will focus her immediate efforts on ensuring the business operates smoothly during the transition process.