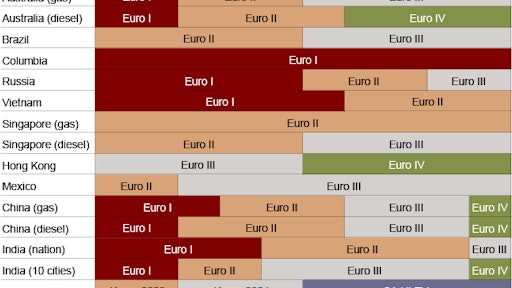 OEM Off-Highway's globally recognized Market Forecaster, Frank Manfredi, has announced that his company, Manfredi & Associates, is offering a multi-client study entitled Quarantined Markets? The Possible Isolating Impact of U.S. Emission Regulations On Used Construction Equipment Sales and Pricing.
The study will highlight the unforeseen consequences created by the regulatory process put in place back in 1990. What effect will emission regulations have on used construction equipment following the Tier 4 Final regulations?
The study is designed to answer the questions:
Will Tier 4 equipment be saleable outside Tier 4 markets?
How will equipment users respond to the increased cost of purchasing and operating Tier 4 machines? What will be the impact of Tier 4 machines on used equipment sales?
What will be the impact of Tier 4 machines on the U.S. and Canadian rental markets?
What will be the impact of Tier 4 machines on the worldwide auction market?
Will Tier 4 emissions devices be disabled or modified on machines sold outside Tier 4 markets?
OEM Off-Highway will have the exclusive answers to these questions as the study unfolds, and will keep you posted on its progress.
Read more: New Study Assesses Impact of Emissions Regulations on Used Construction Equipment Sales
The established regulations for the U.S. were not the only emissions standards put in place. The European Union's Stage levels loosely coincided with the U.S. Tier regulations, and other countries such as China and Brazil have made efforts to implement emission reduction plans.
China III (equivalent to Euro III) was implemented in January 2008, applying to all heavy-duty trucks. The next step, China IV, was supposed to follow in January 2010 for new vehicle types and one year later in January 2011 for all vehicles. By last January it became clear that the legislation had to be delayed.
Read more: China IV Emissions Regulations Deadline Delayed
Delays in the implementation of emissions legislation are not unique to China. The other three BRIC countries Brazil, Russia and India have all seen similar delays. The reason for the delay in each case is a recurring theme: the lack of low sulphur fuel. The successful implementation of advanced diesel aftertreatment technologies relies on the availability of low sulphur diesel.
On November 17, 2011, Environment Canada approved amendments to the Off-Road Compression-Ignition Engine Emission Regulations which align Canadian emission standards with the U.S. EPA Tier 4 standards for nonroad engines. The Tier 4 standards will come into force on January 16, 2012 and apply to engines of the 2012 and later model years manufactured on and after January 16, 2012.
Read more: Canadian Emissions Regulations Align With U.S. Tier 4
Besides a lack of an ULSD distribution network, what other challenges will OEMs face for global emission reduction technology development, implementation and worldwide distribution acceptance?