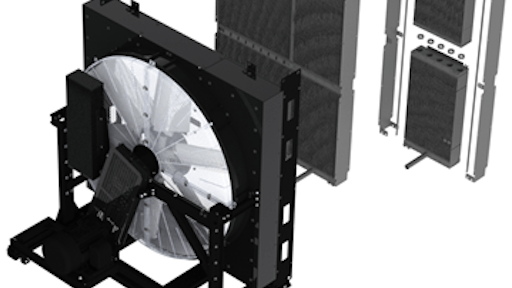 AKG of America Inc.
Responding to customer requests for a larger engine cooler which could be easily serviceable in the field, AKG developed its new MCS Series cooler and introduced it at this year's MINExpo INTERNATIONAL.
The cooler works with engines operating from 1,500-5,000 hp (1,118.6-3,728.5 kW) and is composed of individual sections which can be replaced as needed. "If one of those sections gets damaged in the field, you can remove it and replace it with just hand tools, avoiding the cost and time of replacing the entire cooling package," says Michael Ellis, Business Development Engineer at AKG of America Inc.
Design features and benefits
AKG says typical competitive cooling products in the high horsepower market utilize technology consisting of replaceable individual cooling tubes. The company heard from customers that while those systems were long lasting, end users were becoming too proficient at fixing the coolers in the field, which meant they were having to fix the systems often. Ellis says customers wanted a modular system that could be fixed in the field if something broke, but with a more robust core technology that would not allow end users to get practice at fixing.
The MCS Series cooler has a modular design to ease field serviceability.AKG of America Inc.
To meet these requirements, the MCS system is composed of multiple bar and plate cooler sections that can be removed on an individual basis if a problem occurs. The entire system is made up of these modular cooler sections which can be configured as needed by a customer to fit their application. While a typical application can have anywhere from two to 64 modular coolers, Ellis says in theory, there is no limit to how many sections can be in a system.
Adam Jury, Engineer Manager at AKG of America Inc., says one of the issues with the competitive removable tube style designs is the fact that seals in these systems are often leaky and if the problem tube is deep within the system, it requires a large portion of the radiator to be removed in order to find and replace that tube.
With its block-shaped cooling sections, AKG's MCS eliminates the need to remove and replace several pieces of a system. "It's much easier to replace the section you need instead of removing each individual tube and large portions of the radiator to find the actual leak," says Jury.
The modular design of the MCS has proven beneficial when installing the system, as well. One of the first applications to use the system was a wind turbine; because of its height, a large crane would have been needed to lift a full-sized cooling system to the top of the turbine, which would have been a significant expense. Instead, the modular design allowed each cooling section to be hoisted up individually by a smaller crane built into the wind turbine mast and assembled once it reached the top.
Each of the cooler sections are bolted together with a seal-and-plug which not only provides a strong seal but is also ruggedly designed for use in high temperature environments. Because of this, Ellis says the MCS can be used as a charge air cooler and oil cooler in addition to an engine radiator. "This allows us to build one cooler that's handling all of those different fluids in one cooler package," he explains.
Having a single modular cooler design which meets various cooling needs helps save on space within crowded engine compartments, as well as enables end users to keep just one type of replacement part in stock.
The cooler's bar and plate style construction helps improve cooling efficiency as it allows several circuits to be placed side by side instead of front to back, lowering the temperature of the air as it enters the system. "You can typically get more [cooling efficiency] in the same face area than you would with the traditional front to back style package," explains Jury.
Higher heat transfer efficiency is also possible with the bar and plate style design due to the presence of turbulators in the process rows which increase active heat transfer surface area and turbulate the flow of the working fluid. AKG's deep core technology allows for more heat exchangers to be included in the same installation envelope, as well. By using aluminum material for the heat exchanger cores, the company says customers can take advantage of the material's good conductive and inert properties by reducing cooler size and providing durability in corrosive environments.
Alleviating space constraints
Progressively stricter emissions regulations have caused the amount of space within engine compartments to diminish as a result of the need to now include aftertreatment and cooling system technologies. "The challenge is…to keep the engine package the same size even though there's more stuff being [added]," says Ellis. "They're changing the tolerances on the heat loads to make everything more precise, but we don't have any more space to work in."
The MCS cooler can be packaged in various ways to meet an OEM's individual application needs.AKG of America Inc.
Added to this is the need to make systems accessible for maintenance personnel; Jury notes that a system such as the MCS may require a small amount of additional space to ensure accessibility to the modular sections of the unit.
However, he says the bar and plate design of the system can help overcome these challenges by allowing the cores to be placed deeper within the cooling system package. "Instead of putting more heat transfer surface in the face area of the cooling package, which takes up more room, you can actually go deeper [within the package design]," explains Jury. "In many cases we can go as deep if not deeper than some of the more traditional removable tube style products."
Working together with an OEM in the early stages of the design process can be beneficial to overcoming these challenges, as well. "We work very closely [with OEMs] and design systems to fit into their machine," says Ellis. "The sooner we get started in the design process, the better we're able to tailor the cooling package to the machine and make sure everything fits and works exactly right the first time out."
The cooling system often starts with standard parts, he says, and progresses toward a customized package design tailored to the individual customer's application needs. Jury adds that being able to leverage standard components, fittings and core block sizes helps minimize the overall cost of the system once a final design concept is realized.
Currently large mining and construction equipment, as well as wind turbines and large gensets, are among the target markets for the MCS cooling system. Some larger material handling equipment, rail, and portable and stationary power generation equipment are also potential areas of implementation, concludes Ellis.
Companies in this article