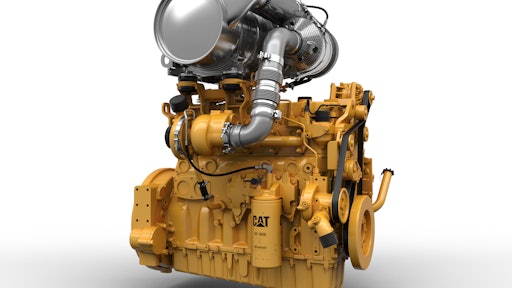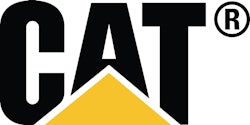 Caterpillar currently is developing productive, fuel-efficient, power-dense, EU Stage V-compliant engines across its industrial product line, from the two-cylinder C0.5, to the 12-cylinder, 32-liter C32. Goals for Cat Stage V engines include developing more efficient after-treatment systems, simplifying installation in OEM-customer machines, and providing added value for end users of OEM machines—through increased productivity, increased fuel efficiency, and exceptional reliability.
The Cat C9.3B engine, for example, has been awarded EU Stage V emissions certification and is now in production—more than 10 months ahead of the industry's newest and most stringent regulatory requirements.
"The C9.3B's certification is an exciting milestone for Caterpillar," says Jeff Moore, product director, research and development for 7.2- to 18-liter engines, "and we're confident that this engine will meet customer expectations for reliability and durability in a simpler, lighter package with more power and torque. Caterpillar has proven the merits of the C9.3B by testing the engine to its limits, both in the lab environment and in actual customer applications."
The six-cylinder, 9.3-liter C9.3B engine builds on the core engine that has been in production since 2011, logging more than 200 million hours in real-world, off-highway operation. With a proven, reliable core engine, coupled with extensive diesel-particulate-filter (DPF) experience, Caterpillar has focused EU Stage V engine development on simplifying design, improving performance, and reducing installation complexity.
The C9.3B combines a new high-pressure/common-rail fuel system with simplified systems for air, electrical, and after-treatment to produce up to 340 kW (456 hp) of power and 2088 Nm (1,540 lb.-ft.) of torque, resulting in 18% more power, 21% more torque, and 12% less weight, compared with its predecessor.
"End users will see this refinement pay off with increased performance, up to 3% less fuel consumption and exceptional starting capability in cold climates," says Moore.
"Patented after-treatment technology provides a compact, lightweight design that is 39% smaller and 55% lighter than the EU Stage IV/Tier 4 Final configuration, and the new design provides transparent regeneration to ensure optimum machine performance and uptime."
As with all Cat 9- to 18-liter engines, the C9.3B is available in various configurations, including those with factory-installed, engine-mounted after-treatment systems and radiators. In total, more than 2,000 unique configurations are available for the C9.3B.
"We understand that not all customers have the resources to design, manufacture, and validate on the same scale," says Moore. "For that reason, Caterpillar designs its products with the flexibility to accommodate various OEM requirements, resulting in lower installation costs."
In addition to the C9.3B, the Cat large-engine, EU Stage V lineup also includes the 12.5-liter C13B, incorporating technology similar to that of the C9.3B and with power ratings to 430 kW (577 hp).
Caterpillar also is certifying its existing C13, C15, and C18 EU Stage IV/U.S. EPA Tier 4-Final engines to meet EU Stage V emission standards. Stage V certification for these engines will be achieved with no changes to customer interface points and with only minimal changes to the DPF, allowing customers to focus on overall improvement of their products. Cat engines and DPF solutions in this range have nearly 170 million hours of proven field performance.
Caterpillar will begin accepting EU Stage V orders for C13 through C18 engines in May and plans to ship production engines in October. The C13B will be available in 2019.
Dual-label certification—EU Stage V/U.S. EPA Tier 4-Final (and Japan 2014/Korea Tier 4-Final)—will be offered for the C9.3B and all other Cat products in the 250-to-597 kW (335-to-800 hp) power range. This flexibility allows customers to develop commonality in products, parts, and service across various regions. With products for lesser-regulated countries that have similar performance and share common core-engine components, machine interfaces, and control architecture, the Cat product range is suited for a global customer base, supported by the Cat dealer network.