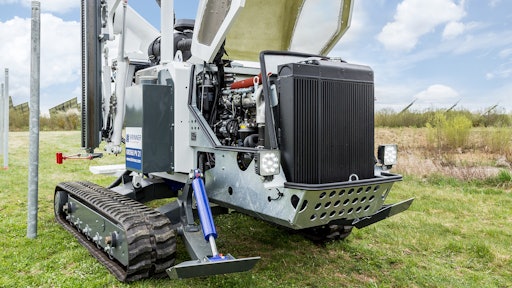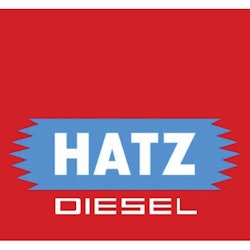 Ground screws are used for anything that has to be anchored in the ground firmly, while also being reversible, such as car ports, road signs and even the base structure of solar plants, such as in El Salvador with over 60,000 ground screws. Here, Krinner and the partner companies used machines to sink thousands of ground screws into the ground.
The machines, designed by Krinner, are used all around the world, with the power and reliability of the new Hatz H-Series engines.
Newly developed Krinner machine with Hatz 4H50TIC OPU
The latest Krinner ground screw driver is equipped with the quiet, liquid-cooled Hatz 4H50TIC OPU (open power unit). High torque, low weight and small dimensions are crucial for the compact machine, both in use and for ease of transport. Designed according to the downsizing principle, the 2 L, four-cylinder engine is comparatively small and very efficient. The OPU version has additional advantages: The engine is equipped with all the ancillary units and components such as a coolers, piping and electronics, and is constructed as a ready-to-use engine, which has been completely tested by the manufacturer.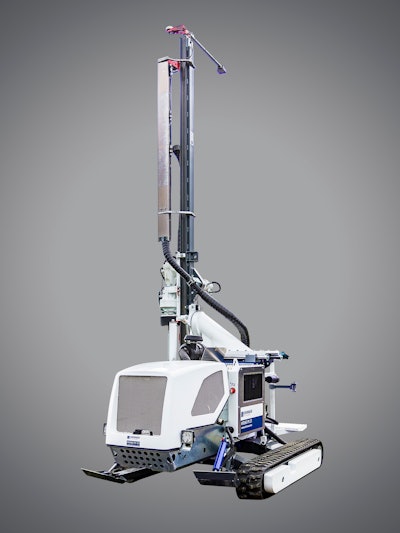 International use, international emissions regulations
In addition to the generous power and torque, the Hatz 4H50TIC OPU fulfils all global emissions regulations. With the downsizing approach, in combination with the latest technology such as common-rail injection and turbocharger, the engine gets by without a bulky particle filter. As a result, the engine fulfils the level IIIB exhaust requirements in the EU and EPA Tier 4 Final in the USA. This is crucial for Krinner, as the many international projects require machines that fulfil the most demanding emissions requirements around the world.
Krinner KRD 60 PV
Screws into ground with a soil class of up to VII (rock that is difficult to loosen) in minutes with its powerful engine
Ground screw driver with hydraulic drive for an average of up to 125 ground screws per hour
The lightweight construction of the engine enables it to be transported on a standard trailer
Hatz 4H50TIC OPU
As a complete, ready-to-use, plug-and-play solution, the Hatz open power unit (OPU) makes installation much easier
The Hatz 4H50TIC OPU four-cylinder engine with the latest technology requires a smaller engine size and therefore creates more scope for installation in compact machines
The high torque over a large speed range offers sufficient reserves, even on steep terrain or with a particularly challenging ground consistency