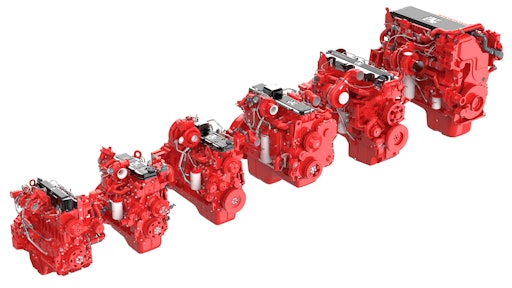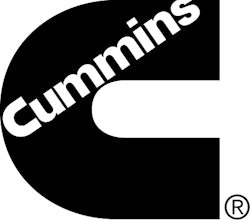 Cummins ultra-clean Stage V engines are to be called Performance Series. Available from 3.8-15 L displacements and 100-675 hp (75-503 kW), they deliver strong solutions for construction, agriculture and material handing applications with class-leading levels of power and torque.
"Cummins' solution has achieved the near-zero emissions levels as demanded by Stage V. All our Stage V engines are in production, some of them ahead of the legislated date of January 2020. It is unclear what the plans are for off-highway emission regulations beyond this, so we have decided to rename these products to highlight what they bring to the market. They are delivering more with less for our customers. More performance with lower installation costs for OEMs and lower running costs for operators. So, they will be called Performance Series moving forward," says Alexei Ustinov Vice President Cummins Off-Highway Engine Business.
The 4-cylinder F3.8 and B4.5 Performance Series engines achieve remarkable increases in power and torque, giving manufacturers the opportunity to improve machine capability and offer more value to their customers. Alternatively, there is a potential to downsize the engine to one of lower displacement, reducing costs while preserving the productivity of their existing machines.
The 3.8-L moves up from 130 hp (97 kW) to 173 hp (129 kW) with the new architecture, 33% higher. The 4.5-L engine jumps 16% from 173 hp (129 kW) to 200 hp (149 kW). Peak torque of the F3.8 increases by more than 31%, to 620 Nm, and an 11% increase moves the B4.5 up to 780 Nm.
The F3.8 also features in Cummins HPP (Hybrid Power Plug-in) concept. Moving forward, Cummins will offer full electric and diesel-electric solutions as part of a wide portfolio of power solutions. The HPP offers a balance of battery power with a compact engine-generator. It works in the same manner as a full electric driveline but has both an F3.8 Performance Series powered generator and plug-in options for charging. It gives much more flexibility where charging infrastructure is more challenging.
"The HPP solution lowers total emissions, with the opportunity to operate at zero or near-zero emissions during the shift. Noise and fuel consumption is reduced, using a smaller engine, operating for less time," continues Ustinov.
Moving up the range, the 6-cylinder B6.7 Performance Series engine surges ahead with up to 326 hp and a peak torque of 1,375 Nm – a 30% increase over its predecessor. The L9 9-L Performance Series engine increases power from 400 hp (298 kW) up to 430 hp (321 kW), with a 13% increase in peak torque to 1,846 Nm.
"The higher torque capability of the Performance Series engines, particularly low in the rev range, makes them more responsive meaning the work gets done quicker which improves productivity," adds Ustinov.
The integration of Cummins Stage V Single Module aftertreatment system with leading combustion and air handling technology allows EGR to be removed from the F3.8, B4.5, B6.7 and L9 engines. The Single Module combines DPF, SCR and urea-dosing technologies in one unit, providing up to 40% reduction in envelope size and 20% reduction in weight compared to earlier products. This offers OEMs a simpler installation with lower installed costs.
Removing EGR offers additional benefits for equipment manufacturers. The same Cummins engine platform can be applicable for sales to multiple emissions standards, from Stage V and Tier 4 Final, all the way down to unregulated levels. Each machine can have the same electronic integration and mechanical hookups, with or without exhaust aftertreatment. This give installation commonality and manufacturing flexibility to OEMs, saving cost.
At the top of the range the X12 and X15 engines deliver heavy-duty power from 335-675 hp (250-503 kW) for larger industrial equipment.
"All Performance Series engines are available as Power Units which are more than 70% pre-approved for installation including the engine, exhaust aftertreatment, cooling system, hoses, air cleaner and mounting," concludes Ustinov.