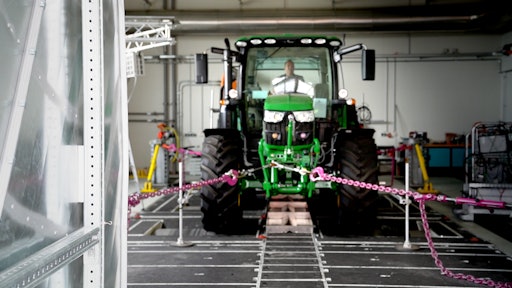 Shell
Maximizing heavy equipment utilization is integral for end use customers in industries such as mining and agriculture. Cost pressures and tight margins continue to pose challenges, necessitating efficiency improvements wherever possible.
Choosing the right consumables, like fuel and lubricants, can play an important part in how a machine performs, and thus efficiency and overall business performance. Shell and Deutsche Landwirtschafts-Gesellschaft (DLG)—the German Agricultural Society—recently worked together to demonstrate the Total Cost of Ownership (TCO) savings possible when using Shell premium fuel and lubricants together.
Shell and DLG tested these consumables in real-world conditions at DLG's test facilities in Gross-Umstadt, Germany. The association has worked with many in the agricultural and other off-highway equipment industries to provide technical and scientific unbiased testing. According to Shell, engaging a facility at the standard of DLG allows precise testing and close monitoring of the test conditions. "The Shell project has been a good opportunity for the DLG Test Centre," explains Stefano Mastrogiovanni, Managing Director DLG Test Service GmbH, "because we've tested thousands of test cycles of tractors using our PowerMix, but now we've also tested for fuels and lubricants."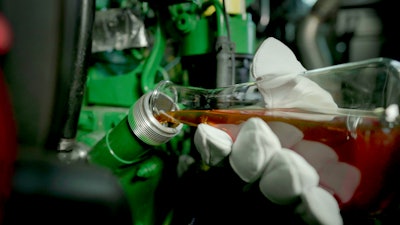 Proving the potential for fuel economy gains
Testing was conducted over a 4-month period which included over 600 hours of accumulated testing time. The team compared Shell's FuelSave Diesel and Shell Diesel Extra fuels with Shell Rimula Rimula R6 LME Plus 5W-30 against regular diesel and standard lubricants.
FuelSave Diesel and Diesel Extra feature cleaning capabilities designed to remove carbon deposits from fuel injectors, preventing buildup that can cause performance and wear issues. Shell says this fuel technology can help lower operating costs and increase fuel economy up to 3%. This is of course dependent upon the vehicle and application. By keeping the fuel injectors clean, carbon dioxide and other vehicle emissions can be reduced as combustion is more efficient.
A corrosion inhibitor in these diesel fuels prevents corrosion from occurring in fuel system parts as well as storage tanks, further helping to ensure optimal performance.
Shell's premium diesel products were first put through DLG's PowerMix test procedure using test frames and parameters designed by an independent expert commission, a format regularly used by leading global manufacturers to assess the quality of their machines. The PowerMix test consists of 14 test cycles which simulate various loads on a piece of equipment, such as a tractor. It measures fuel and AdBlue—also known as diesel exhaust fluid (DEF)—consumption, as well as output and efficiency of the machine being tested. Test cycles are designed to replicate field and transport applications of a machine at half and full load.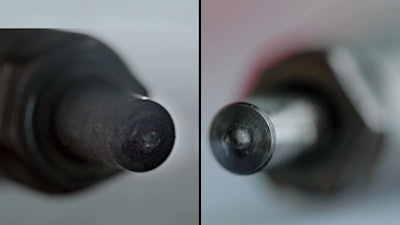 Additionally, Shell and DLG designed a new Power Take Off (PTO) testing program which combines a series of assessments to verify the quality of premium fuels versus standard ones.
Testing showed using the Shell premium diesel and lubricants together can deliver up to 472 more operating hours as a combined efficiency benefit[1], a figure that could have significant cost-saving potential when viewed in light of the 24/7 schedules common in mining, agriculture and other heavy-duty equipment applications. The results also highlight the increased productivity that Shell FuelSave Diesel and Shell Diesel Extra can offer, with DLG measuring up to 2.7% fuel economy[2] and 5.6% more load-pulling power when compared with regular diesel[3].
Fuel use is a large part of operating costs for heavy equipment owners. The average large mine haul truck, for instance, uses 900,000 L (237,754.8 gal.) of diesel each year. As such, any improvement to fuel economy can have a significant impact on a business' bottom line.[4]
In addition to fuel economy benefits, the testing found Shell's premium fuels were able to achieve up to 100% injector deposit clean-up in less than 3 working days which Shell says can significantly reduce downtime and maintenance costs[3]. This also helps to ensure optimal engine efficiency and machine performance which are vital when operating in harsh environmental conditions or difficult terrain as heavy-duty equipment often does.
Upon completion of the testing, the Shell differentiated fuels and premium lubricants were awarded the DLG Quality Seal – a certification that is given to products that have been proven to meet strict criteria developed by unbiased test commissions.
Shell says the DLG testing shows the right fuel and lubricants selection can unlock tangible efficiencies for equipment owners and their business operations. It also shows that there could be even greater improvements are possible when premium fuel and lubricants are used in tandem.
For equipment and component manufacturers, seeing these test results can help guide design efforts as well as how they may want to partner with fuel and lubricant suppliers to ensure their end customers can get the most out of their machinery.
Shell notes that while there is growing awareness of the benefits provided by using premium fuels and lubricants, the testing conducted with DLG provides further credibility to this. "Our test results have shown that Shell premium fuels and lubricants perform better than the standard products," concludes Mastrogiovanni.
*This content is based on information provided by Shell.
Footnotes
[1] For the same amount of fuel compared to regular diesel without fuel economy formula and to standard lubricant. Baseline of 1,00,000 lt and 50 lt/hr fuel consumption per equipment. Based on demonstration tests with off-highway heavy-duty Tier 4 engines in collaboration with DLG Germany.
[2] Shell FuelSave Diesel is designed to help provide by up to 3% fuel economy, compared to regular diesel without fuel economy formula. Actual savings may vary according to vehicle, driving conditions and driving style. Internal Shell tests and with customers have shown a range of fuel savings depending on age of vehicle and type of operations.
[3] Compared to regular diesel without fuel economy formula. Based on demonstration tests with off-highway heavy-duty Tier 4 engines in collaboration with DLG Germany. Achieved within 50 hours of engine operations and 4 tankfuls.
[4] Muralidharan, Raghav, Thomas Kirk and Thomas Koch Blank. "Pulling the weight of heavy truck decarbonization: Exploring pathways to decarbonize bulk material hauling in mining." Rocky Mountain Institute. 2019. https://rmi.org/wp-content/uploads/2019/06/rmi-pulling-the-weight-of-heavy-truck-decarbonization.pdf (accessed October 12, 2020).
Companies in this article