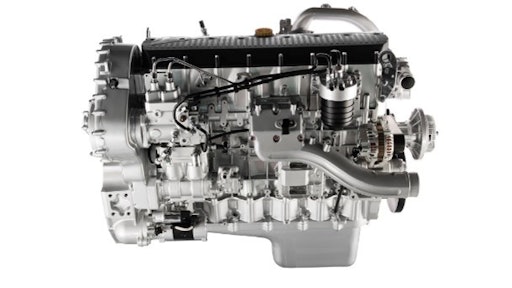 FPT Industrial

FPT Industrial announces it is researching the use of DME (dimethyl ether) as a fuel option in heavy-duty engines. DME can be produced from various types of renewable sources, such as natural gas and biogas from organic waste. Because of this, it is considered to be cleaner burning and less toxic than traditional fuel types made from non-renewable sources.
The company is researching the use of this fuel as a means of helping customers meet European carbon dioxide (CO2) emissions reduction targets by 2025 and 2030.
FPT says in its press release announcing the project that with the correct engine hardware configuration and calibration, a DME fueled engine will produce very low NOx (oxides of nitrogen) and particle emissions. In addition, the engine will be able to maintain a high level of efficiency, ensuring OEMs and their end-use customers can achieve the same performance as with a diesel powered engine.
The company notes there are currently some challenges associated with the use of DME, particularly when it comes to the fuel injection equipment. With this new research project FPT is looking to help overcome this challenge and provide a means of using DME as a comparable alternative to diesel.
Since DME combustion produces almost no particle emissions, FPT says a simplified SCR system without a particle filter could be used to ensure compliance with emissions regulations. This would prevent the engine from taking up valuable space within a piece of equipment, which has often been a challenge for the industry as emissions regulations have evolved over the years.
The Swiss Federal Office for Energy (SFOE) is funding the project, and a test bench is being operating at Empa Dübendorf—a Swiss research facility in which FPT has invested to make necessary adjustments for testing the use of DME.
FPT is testing the DME fuel in an 11-L heavy-duty engine. The company says in its press release that initial data from the testing shows promising results in reductions of CO2, NOx and particle emissions while providing similar efficiency as a diesel engine.
FPT is not the first company to research the use of DME in heavy-duty applications. Volvo Trucks announced back in 2013 it would begin researching use of the fuel in its Class 8 trucks. It and sister-brand Mack Trucks continue to investigate use of the fuel, as do several other manufacturers in the heavy-duty equipment industry. You can read more about Volvo Trucks' original research and partnership with Oberon Fuels in the article "Regionally-produced clean fuel."