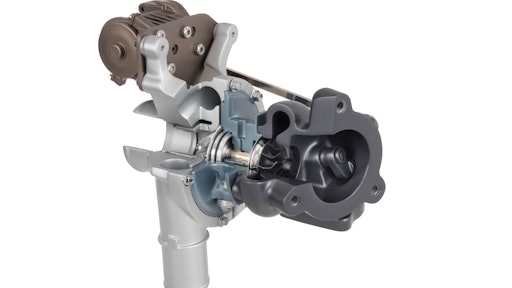 Honeywell Transportation Systems – which Honeywell plans to spin off into a new company named Garrett Motion, Inc. near the end of the third quarter – has unveiled its latest turbocharging technologies for commercial vehicles covering diesel, hybrid and fuel cell powertrains at the 67th annual IAA Commercial Vehicle conference in Hannover.  
Honeywell has tailored differentiated solutions for commercial vehicle customers dating back more than 60 years, and is currently immersed in helping manufacturers globally meet escalating regulatory standards targeting further reductions in carbon dioxide emissions and improving fuel economy.
"Improving fuel economy to meet more stringent emission targets without sacrificing performance or reliability remains a top priority among our partners and the industry at large," says Aileen McDowall, General Manager of Commercial Vehicles at Honeywell Transportation Systems. "As we prepare for the transition to Garrett, we continue to invest significantly in our core business to help give manufacturers and operators an optimized powertrain configuration that increases performance and productivity. The re-branding of TS into Garrett – Advancing Motion, underscores our pipeline of innovations, including those in electric boosting, software monitoring and predictive health maintenance to improve operational efficiency and reliability."
Technical Innovations On Display
Gen III Double-Axle VNT
Honeywell is introducing its new GT17 frame size, double-axle variable nozzle turbine (DAVNT) built on its third-generation architecture. It is the smallest double-axle variable geometry turbo ever introduced and serves 2.5-4.0 L engine sizes.
The movable turbine nozzle vanes are supported by two axles for enhanced reliability and durability – up to 1.2 million km life cycles. Honeywell's patented pressure balance channels exhaust gas to both sides of the vanes, thereby preventing strong axial loading and reducing friction and wear while enhancing controllability at the same time. The design provides light-duty vehicles with engine breaking capabilities typically reserved for medium-duty applications to help improve overall performance.
Coupled with electric actuation, this turbo also improves fuel economy 2-3% from previous industry applications for these engines and provides improved transient response and enhanced engine braking. The new GT17 DAVNT will help power vehicles from Isuzu Motors Ltd and Hyundai Motor Company.
In addition, a larger GT35 DAVNT for medium-duty truck applications with engine sizes between 7.0-10 L will also be on display in Hannover. These turbochargers build upon the durability enhancements inherent to Honeywell's Gen III architecture with a state-of-the-art aerodynamic package that provides best-in-class fuel efficiency and enhanced controllability thanks to its unique compound cambered vanes.
Wastegate and Fixed Geometry Diesel Turbos
Honeywell is displaying a new GT45 diesel wastegate turbo for on-highway applications between 11 and 14 L. It features a new aerodynamics package that improves air flow in both the compressor and turbine stages. Coupled with a new bearing system, the turbocharger achieves a more than 2% improvement in fuel economy as well as better transient response compared to the previous generation. This application was designed in China specifically for the Chinese market, which accounted for more than 1.5 million medium- and heavy-duty industry sales in 2017. Its enhanced design improves durability to help operators meet the approaching China VI emission standard for heavy-duty vehicles.
Finally, Honeywell is displaying a new fixed-geometry, electrically actuated wastegate turbocharger and low-friction bearings – its first high-volume application of an electric wastegate for commercial vehicles. The electric actuation offers complete control of the wastegate system, improving cold-start and partial load operation, and features an airless pressure system for reduced complexity. This new turbo for light commercial vehicle and off-highway machinery can provide up to a 2% reduction in fuel consumption with improved transient response and durability. The usage of its electric actuator could bring an additional 1-2% of improved efficiency at higher engine speeds than a traditional pneumatic actuator.