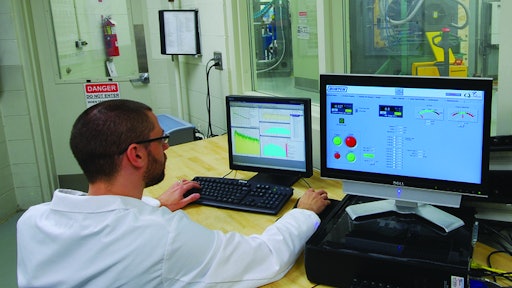 Chances are that Horton is part of your everyday life. You encounter Horton products daily when your mail and consumer goods are transported to your town by truck, when you ride a transit bus, when your child rides a school bus, when your home or workplace is under construction, when the food on your table is produced by the agricultural industry.
Horton, Inc., a provider of premium engine cooling solutions worldwide, celebrates its 60th anniversary in September 2011. From its humble beginnings with three employees and no machines, in 1951, the Horton of today has an international presence and state-of-the-art technical centers for development and testing that include specialized test cells, a dynamometer with ram air provisions, a wind tunnel and a cooling system simulator.
The company's colorful history dates back to 1902. The original company, which got its start making wagon bodies, was liquidated before its rebirth in 1951. Then Hugh K. Schilling and some investor associates purchased the seemingly minor remnants of the dismantled company—two unexpired patents on variable-speed clutch pulleys, and a list of unfilled orders for customers who hadn't heard from Horton in months.
After struggling to market the existing products and develop new ones, Schilling and his associates hit pay dirt in 1960 with Air Champ, the first air-engaged clutch and brake on the market. The Air Champ product line has stood the test of time and is still a reliable technology used in a wide variety of industrial applications. This product line and other motion control, power transmission and web tension control components and products are now manufactured and marketed by Nexen Group, Inc., which is owned and operated by Hugh's son, Hugh Schilling, Jr.
"We overcame inherited problems, and worked to develop progressive products for the industrial drive and brake business," says Schilling. "We increased the company's product line and customer base, which was key to our renaissance and success."
Horton continued its pioneering role with the development of a fan drive for the heavy-duty truck market in 1964, a product that the market did not fully embrace until 1972.
"The fan drive was a product before its time," says Schilling. "It was environmentally friendly, it reduced engine noise, and saved fuel and money. Those issues weren't really a concern to the market until environmentalism grew and fuel prices began to rise in the early 1970s. The fan drive turned out to be the right product at the right time."
Today, as a result of changing emissions regulations, engines are hotter than ever. Horton has continued to exceed industry demands with the most extensive line of innovative airflow management solutions that provide maximum efficiency, improved engine performance, increased airflow, quieter operation and fuel savings. Horton's line of fans, fan drives, aftermarket conversion and repair options, and suspension products include:
DM Advantage On/Off, Two-Speed and Reman Fan Drives
Stratis and VMaster Viscous Fan Drives
EC450 and EC600 Electromagnetic Fan Drives
PolarForce Two-Speed Conversion Kits
WindMaster Plastic and Metal Fans
WindShift and Shogun Modular Fans
WindMaster Revolution High-Efficiency, Hybrid-Flow Fans
Roller Bushing Suspension Products
And several other engine cooling products
"Horton is a success thanks to the many people involved with the company in the past 60 years," says Schilling. "We are an industry leader by virtue of the ingenuity of those people. With their continued efforts and support, Horton will remain a leader in manufacturing and marketing components for the truck, bus, and off-highway vehicles and equipment markets."