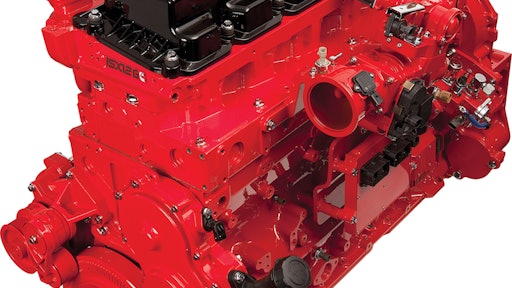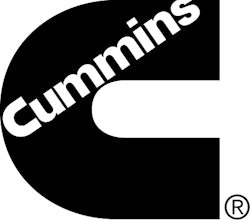 Cummins Westport Inc. announces that the Cummins Westport ISX12 G, a 12 liter heavy-duty, factory-built, dedicated natural gas engine for regional-haul, truck/tractor, vocational and refuse applications will be officially unveiled in the Cummins booth at the Mid-America Trucking Show (MATS) in Louisville on March 22, 2012.
The ISX12 G natural gas engine is based on the Cummins ISX12 diesel engine platform, the newest member of Cummins' Heavy-Duty engine family. The ISX12 G will operate exclusively on natural gas, and fuel can be carried on the vehicle as either compressed natural gas (CNG) or liquefied natural gas (LNG), utilizing Cummins Westport's proprietary spark-ignited, Stoichiometric cooled Exhaust Gas Recirculation (SEGR) technology, first introduced with the 8.9 liter ISL G.
The ISX12 G also features Three-Way Catalyst (TWC) aftertreatment, which is packaged as a muffler and is maintenance-free. No Diesel Particulate Filter (DPF) or Selective Catalytic Reduction (SCR) aftertreatment will be required.
A range of five ratings, from 330 hp to 400 hp (246 to 298 kW) and 1150 to 1450 lb-ft (1559 to 1966 Nm) torque will be offered at launch. Field-testing is under way, with production expected to begin in early 2013. The ISX12 G will also be the first engine from Cummins Westport to offer optional engine brake capability and will also offer customers the choice between manual and automatic transmissions.
The ISX12 G will be manufactured in Cummins' Heavy-Duty Engine Plant in Jamestown, NY, and will be backed by a Cummins base warranty (two years, 250,000 miles; 6,250 hours of operation). Extended coverage options will be released closer to production. Service, parts and training support will be delivered by the Cummins service network.
"This is an important product development for Cummins Westport, given the increasing demand for natural gas vehicles in the heavy-duty market," says Jim Arthurs, President - Cummins Westport. "The ISX12 G will offer customers heavy-duty performance, reliability and durability and a choice of either compressed natural gas or liquefied natural gas as a fuel."
The ISX12 G target markets at launch are North American regional-haul and vocational truck/tractor, and refuse applications, where demand for natural gas vehicles is growing. Anticipated end-use applications in the regional-haul market segment include intermodal and distribution operation and pickup-and-delivery. Potential postlaunch market opportunities include motorcoach and specialty vocational applications.
The ISX12 G is expected to be certified at launch to meet the U.S. Environmental Protection Agency (EPA) and California Air Resources Board (CARB) emissions standards of 0.20-g/bhp-hr oxides of nitrogen (NOx) and 0.01-g/bhp-hr Particulate Matter (PM). The engine is additionally expected to be capable of meeting Euro VI and pending U.S. greenhouse gas and fuel economy regulations.
Partial funding in support of the ISX12 G engine development has been received from the U.S. Department of Energy's (DOE's) National Renewable Energy Laboratory (NREL), in partnership with the California Energy Commission and the South Coast Air Quality Management District, and the California Energy Commission in conjunction with the Gas Technology Institute.