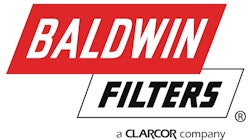 Baldwin Filters has attained market leadership in the filtration market for Class 4 to 8 vehicles in  North America, according to a recently issued report, "Strategic Analysis of North American Medium/Heavy-Duty Commercial Vehicle Repair and Maintenance Market."
Published by Frost & Sullivan and released the week of January 23, the report offers a detailed review and analysis of the Commercial Vehicle Aftermarket in North America. According to the report, Baldwin leads the Class 4 to 8 (medium and heavy truck) filtration market, surpassing its competitors for the first time.
"The Baldwin Filters organization's unwavering commitment to quality, coverage, and customer  support made this happen," says Sam Ferrise, Baldwin Filters President. "Our entire organization is focused on providing unparalleled support, not only in North America, but around the world.  We achieved this position through the efforts of our employees and the support of our customers. Baldwin is committed to continuing to provide our customers the best performing products through investments in new technology and advancement of filter media technologies along with our recognized excellent service."
According to the report, the medium and heavy-duty commercial vehicle filtration market was $1.22 billion in 2010, and is forecast to grow to $1.65B in 2017. Sales will be driven by growth in vehicles in operation (VIO), tougher emissions regulations, and increases in the average miles driven by commercial vehicles.