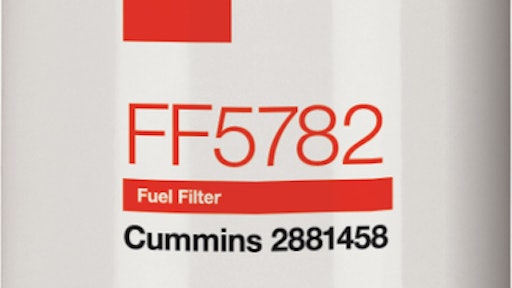 Cummins Filtration, a division of Cummins Inc., has released its revolutionary Fleetguard FF5782 fuel filter with nanotechnology-based filtration media. The first of its kind for fuel filtration, the FF5782 was developed specifically to meet the high-performance demands of Cummins QSK high-horsepower engines.
With extensive field-testing over a three-year development cycle, this latest in the Fleetguard fuel product lineup is developed to deliver unmatched protection and superior uptime for customers. Trapping 98.7% of all particles as small as 4 microns (12 times smaller than the smallest particle visible to the human eye), the FF5782 exhibits 13 times greater retention of particles during fuel surge and engine vibration than its closest competitor. Fuel surge results from the fluctuation of fuel flow due to the increase and decrease in the engine output.
Focused on reducing injector failure by removing harmful particles and by delivering fuel that meets Fuel Injection Equipment (FIE) manufacturers' suggested ISO 12/9/6 cleanliness level, engines equipped with the FF5782 fuel filter showed no signs of injector wear after more than 190 hours of testing. An engine in identical condition, using standard fuel filters, showed significant wear after only 50 hours, ultimately leading to premature injector failure. "The most important and expensive component in today's high-pressure common-rail fuel system is the injector. Hard particles in the fuel flow can cause significant wear, disrupting its precise operation, reducing fuel efficiency and leading to premature injector replacement," says Kevin Westerson, Chief Technical Officer - Cummins Filtration. "Our FF5782 fuel filter with nanotechnology- based media protects up to 13 times better than its predecessor, so injectors work better, longer." Because the Fleetguard nanotechnology media filter captures and holds particles better than any other filter in the marketplace, engines fitted with this technology will have fewer injector failures and are expected to offer a 25% reduction in the total cost of ownership.