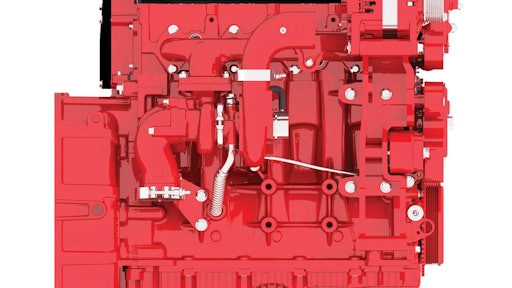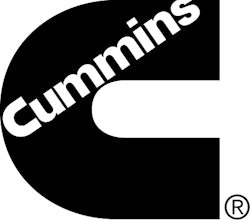 Cummins Inc. will display a 49- to 4,000-hp (37 to 2,983 kW) engine lineup at MINExpo (September 24 to 26, 2012), representing the most extensive "smallest to largest" range the company has ever put on display, from the 2.8 liter four-cylinder QSF2.8 – ideally suited for compact underground loaders – all the way to the 95 liter, 16-cylinder QSK95, designed for ultra-high-class haul trucks and excavators. This will be the North American debut for both of the new engines. The Cummins booth at MINExpo 2012 will feature the legendary QSK60 and QSK78, known throughout the industry for their reliability and dependability in mine sites around the world. Combined with the most extensive global service network, the Cummins engine lineup offers the complete package to guarantee uptime.
The 16-cylinder QSK95 reaches mining power output previously available only from 20-cylinder engines. High power density is achieved with a hardened power cylinder featuring the strongest single-piece forged-steel piston available in the industry. Deep structural strength is provided by an all-new ductile iron-skirted block. This increased strength contributes to higher engine uptime availability, extended life-to-overhaul and more cost-effective rebuilds. The QSK95 will be available as a global mining engine platform capable of operating at mine sites anywhere in the world and meeting all emissions standards, including Tier 4 Final in North America, using Cummins' proven Selective Catalytic Reduction (SCR) aftertreatment. The QSK95 is an example of innovative product development with ample horsepower for mining needs now and in the future.
Cummins Tier 4 Final technology will be also a key focus at the Cummins booth at MINExpo 2012. On display for the first time for the mining market will be the Cummins SCR clean-exhaust system for diesel engines over 751 hp (560 kW).
The QSK engine family will meet EPA Tier 4 Final off-highway 2015 emissions standards with a combination of clean in-cylinder combustion and a new SCR clean-exhaust system. The SCR aftertreatment operates as a fully passive, flow-through system and is capable of high oxides of nitrogen (NOx) conversion with low backpressure, enabling enhanced fuel economy. The SCR system is modular in design, and is scalable for the complete QSK engine lineup to ease integration and assembly by the equipment manufacturer. For applications below 1,500 hp (1,119 kW), a single-assembly SCR system may be used in varying lengths sized to engine output. A twin-assembly SCR system will be used for applications above 1,500 hp (1,119 kW), each aligned with a cylinder bank and matched to engine power output. The next-generation QSK engines, integrated with the new SCR clean-exhaust system, will give mine operators increased uptime and improved fuel efficiency, and will deliver lowest total cost of ownership.
Cummins offers a full product lineup, with an engine available for any horsepower need. The four-cylinder QSF2.8 is the smallest engine to be introduced by Cummins for the off-highway industry, with full-authority electronic controls driving a High Pressure Common Rail (HPCR) fuel system. This capability brings the premium performance characteristics associated with larger Cummins engines to compact equipment below 75 hp (56 kW) for the first time. The QSF2.8 offers an installation envelope comparable in size and weight to engines smaller than 2.8 liter displacement but combines this with the durability expected from an engine with a larger displacement. Although the architecture of the QSF2.8 has many aspects in common with that of a higher displacement engine, the weight of the 2.8 liter is remarkably low at just 507 pounds (230 kg). The design of the QSF2.8 brings premium performance characteristics associated with larger Cummins engines to compact equipment below 75 hp (56 kW) for the first time, ensuring maximum uptime and reliability for mine operations.