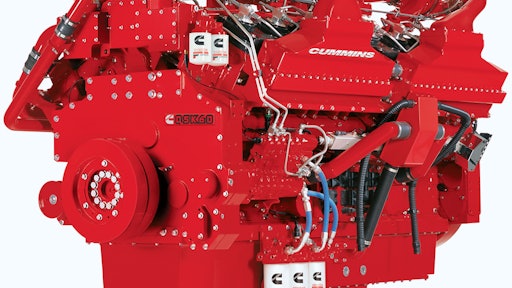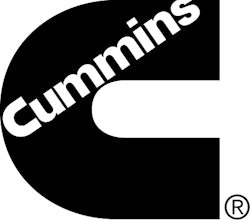 Cummins Inc. announced during MINExpo 2012 its plans to produce dual-fuel engines for mine-haul trucks. The Cummins Dual Fuel engine technology substitutes natural gas for diesel fuel in the combustion process, reducing the amount of diesel fuel required to operate mining equipment.
The first engine in the Cummins Dual Fuel portfolio for mining is the QSK60, with other QSK Series engines to follow, including engines capable of meeting U.S. Environmental Protection Agency (EPA) Tier 4 Final emissions standards. Cummins is actively working with customers on dual-fuel engines, and a release date will be announced in the coming months.
The QSK60 has serviced global mining needs for the last 12 years, delivering maximum uptime for mining applications. With a horsepower output of 1,782 hp to 2,850 hp (1,329 to 2,125 kW), the QSK60 is available in standard and high-altitude configurations, and both will be capable of substantially reducing fuel costs with Cummins Dual Fuel technology.
Cummins Dual Fuel engines will use integrated controls that will optimize the substitution rate based on operating conditions, and will seamlessly and automatically transition between diesel fuel and dual-fuel modes. Cummins Dual Fuel technology enables mining equipment to operate in 100% diesel fuel or in dual-fuel mode, giving the customer flexibility depending on natural gas availability at the mine site.
"The rapid expansion and abundance of natural gas in many areas of the world has driven a dramatic cost advantage of natural gas over diesel fuel. The ability to substitute diesel fuel with natural gas drives down the total cost of ownership of equipment," says Mark Levett, Vice President – Cummins High-Horsepower Business.
"For operators of high-horsepower mining equipment where power density is critical and large quantities of fuel are burned, Cummins Dual Fuel technology provides an opportunity for a dramatic reduction in dollars spent on fuel while retaining the same power and durability customers have come to expect from Cummins diesel engines," adds Levett.
In dual-fuel mode, the substitution rate, which is the percentage of natural gas relative to total fuel flow, is the critical parameter to fuel savings. In traditional operating conditions, engines with Cummins Dual Fuel technology can be expected to deliver a maximum substitution rate of 70%.
"Cummins investment in dual-fuel technology responds to strong demand from our mining customers who are looking for a way to take advantage of low natural gas prices," says David Geraghty, Executive Director – Cummins Mining Business.
"Engines with Cummins Dual Fuel technology retain the same transient response as a diesel engine, remain on the same torque curve as a diesel engine and match diesel engine power output while maintaining current service intervals. This exciting technology not only delivers the uptime customers have come to expect from us, but also delivers a rapid return on investment, making it very attractive to mines around the world," adds Geraghty.