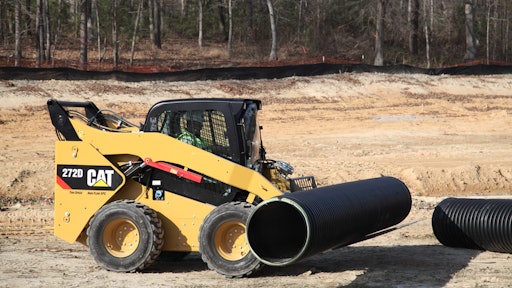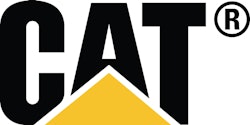 The new Cat 272D Skid Steer Loader and 299D Compact Track Loader, replacing their C Series predecessors, are now joined by a pair of high performance counterparts, the 272D XHP and 299D XHP, which are the largest, most powerful Skid Steer and Compact Track Loaders Caterpillar has ever built. The new D Series models build on the premium features, solid performance, quality and durability of the C Series by adding a more powerful engine, the Cat C3.8, which meets Stage IIIB and Tier 4 Interim emissions standards, and by incorporating design features that further enhance lifting, digging and work tool performance.
The electronically controlled Cat C3.8 engine, designed with a high-pressure common-rail fuel system for operating efficiency, is equipped with the Cat NOx Reduction System and a diesel particulate filter for emissions reduction. Net horsepower increases for the new D Series models range from 5 to 18% and flywheel torque is increased from 13 to 27%. The new engine uses a redesigned air intake path for added efficiency, and a dealer installed pre-cleaner kit is available for dusty, dirty applications.
Larger lift cylinders on all four new D Series models provide a 19% boost in lifting force, compared with C Series models. An available electrically activated quick coupler replaces the previously used hydraulically actuated coupler, allowing a simpler design that eliminates hydraulic lines, connectors and valves. Self-relieving quick disconnects allow work tool changes to be made quickly and easily.
Caterpillar introduces the new "Intelligent Leveling" system (ILEV). The new ILEV system continues to enhance the Caterpillar reputation as a technology leader for integration and industry leading features. The Intelligent Leveling system (ILEV) enables three features: Electronic Dual Self Level, Work Tool Return to Dig and Work Tool Positioner. The Electronic Dual Self Level levels the load both when raising and lowering. This new electronic system is also a plus for reliability, using no hydraulic valves, lines or connectors. The Work Tool Return-to-Dig feature automatically lowers the lift arms and returns the work tool to a preset angle, increasing productivity and decreasing cycle times. The Work Tool Positioner feature automatically returns the work tool to a preset angle, increasing productivity and quality by allowing the work tool (cold planer, forks, trencher, wheel saw, etc) to be returned to a preset angle, even after the machine has been repositioned. In the cab of D Series models is a new dial-type hand throttle, and electronic throttle pedal that provides an industry exclusive "decel" feature when at high idle.
272D/299D
Net engine power for the 272D and 299D is up 5%, from 67 to 71 kW (90 to 95 hp), and peak torque is increased by 14%, providing a significant power increase for these models. A robust, 86.4-Lpm (23-gpm) auxiliary hydraulic system allows efficient use of a broad range of work tools on these models, the optional 120-Lpm (32-gpm) High Flow XPS system, operating at 28,000 kPa (4,061 psi), yields heavy-duty performance and increased productivity.
Rated operating capacity for the 272D is 1450 kg (3,200 lbs.), and for the 299D, 1,350 kg (2,975 lbs.) at 35% of tipping load. Capacity for the 299D rated at 50% of tipping load is 1,928 kg (4,250 lbs.). An optional counterweight kit increases rated operating capacity of these machines to 1,565 kg (3,450 lbs.) and 2,041 kg (4,500 lbs.), respectively. Operating weights are 3,812 kg (8,404 lbs.) and 4,942 kg (10,866 lbs.), respectively.
272D XHP/299D XHP
Net kW for the 272D XHP and 299D XHP is 79 (106 hp) and peak torque is 375 Nm (277 lb.-ft.). Rated operating capacity is 1,633 kilograms (3,600 lbs.) for the 272D XHP and 1,445 kilograms (3,185 lbs.) for the 299D XHP at 35% of tipping load. At 50% of tipping load, the rated operating capacity of the new Compact Track loader increases to 2,064 kilograms (4,550 lbs.). Operating weight for the 272D XHP is 4,220 kilograms (9,304 lbs.) and 5,283 kilograms (11,647 lbs.) for the 299D XHP.
These two new high-performance models are equipped with a 150-Lpm (40-gpm), high-flow hydraulic system operating at 28,000 kPa (4,061 psi) and producing 71 kW (94 hydraulic hp), providing the capability to efficiently handle the largest of hydraulically powered work tools. Both the 272D XHP and 299D XHP models include many features as standard such as enclosed cab with air conditioning, air-ride seat, AMICS system and speed sensitive ride control.