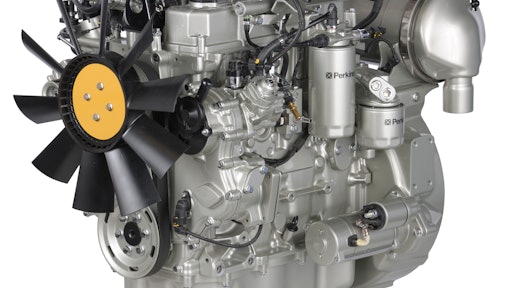 The Perkins 850 Series opens up immense possibilities for the Original Equipment Manufacturer (OEM). Its compact size, increased power density, improved torque and low running costs make it a very attractive option for both OEMs and end users.
There are a whole host of applications in construction, materials handling and agriculture where this engine can really get to work.
Customers have a choice of two models – over 56 kW (75 hp), the Tier 4 Interim/Stage IIIB is a turbocharged, charge cooled engine, and below 56 kW (75 hp), the 854F-34T, which was on show at bauma China 2012, is a turbocharged unit, giving a power range of between 45 kW (60 hp) and 86 kW (115 hp), all from a single engine platform.
In North America the 854F-E34T, with its sub 56 kW (75 hp) power rating, is already Tier 4 Final compliant.
The 850 Series benefits from a common rail fuel injection system, smart waste-gated turbocharger and aftercooler, all regulated by full authority electronic controls to ensure world-class performance and fuel consumption.
Although it's compact, the 850 Series is big on performance, big on torque and big on usability. With a huge 40% increase in power and up to 60% more torque available, the engine range gives great operating characteristics throughout the duty cycle. In the field or on site, operators will appreciate the engine response and the ease at which it can get through the work.
The benefit for OEMs is that this 3.4 liter unit can do the work of a 4.5 liter engine. With the trend for downsizing machines, the increased power density and fuel economy of the 850 Series allows equipment manufacturers to select this engine where previously they may have used an engine of higher cubic capacity. This frees up valuable space to package the aftertreatment unit, which in the case of the 850 Series can be mounted in a variety of locations for additional flexibility.
Because of the break at 56 kW (75 hp) in the emissions legislation, each engine runs a different type of aftertreatment but in each case, both packages are optimized to the engine, giving excellent fuel economy, and no interruption to the running of the machine.
Low life time costs come as standard with service saving features designed in, including hydraulic tappets, multi-vee belts and service-free closed circuit breathers.
The 850 Series is an engine that gets to grips with the challenges facing equipment manufacturers. As they look to build small, high performance yet cost effective machines then the 850 Series is the new workhorse they are looking for.