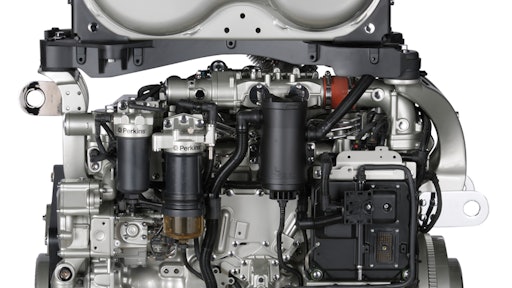 Ahead of the introduction of further EU Stage IV and U.S. EPA Tier 4 Final emissions regulations, Perkins is showcasing its complete line up of Stage IV/Tier 4 Final engines up to 225 kW (300 hp), at this year's bauma exhibition.
The new compact four cylinder 854F-E34TA will spearhead the range on show, which will comprise engines from the company's 400 and 1200 Series as well. The new model incorporates specially optimized Selective Catalytic Reduction (SCR) technology for the first time. This is packaged separately from the Diesel Oxidation Catalyst (DOC) module, giving Original Equipment Manufacturers (OEMs) greater installation flexibility in the engine bay. Space saving is further enhanced through the absence of a Diesel Particulate Filter (DPF).
Performance from the 854F-E34TA has been boosted to 90 kW (121 hp) while the 8% improvement in specific fuel consumption gained at Stage IIIB/Tier 4 Interim has been retained. Heat rejection remains similar to its predecessor meaning no major changes to the size of the cooling pack, helping to maintain the engine's compact dimensions.
As with all engine models from Perkins, the onus is very much on making the transition from Stage IIIB/Tier 4 Interim as seamless as possible so that costly machine redesign can be avoided.
"Moving from one level of emissions regulation to the next has certainly been a challenge for most construction OEMs, given the need to accommodate the aftertreatment necessary to meet the legislation," says Dan Clayton, Tier 4 Product Manager.
"We have purposefully set out to minimize the impact of the additional aftertreatment, providing flexible solutions for the mounting of both DOC and SCR modules so that space claim is minimized in the engine bay. From Stage IIIA/Tier 3 onwards our engine architecture throughout the range has remained broadly the same. This has helped OEMs make a smooth transition from one Stage/Tier to the next, reducing development costs and time," he adds.
Alongside the 854F-E34TA, models on display include the single turbo 1206F-E70TA, which for OEMs wanting lots of torque at low speed, offers up to 151 kW (202 hp) at 2,200 rpm with maximum torque of 870 Nm at 1,400 rpm.
In developing the 1200 Series, Perkins sought to minimize the impact of the aftertreatment required to meet Stage IV/Tier 4 Final requirements, in particular the significant reduction in NOx. Perkins has achieved this through packaging the DOC/DPF canister and the SCR system into one integrated module, which can be positioned remotely in a machine chassis or directly on top of the engine.
The lightweight yet compact dimensioned aftertreatment module minimizes space claim in the engine bay and incorporates a number of features to ease installation. These include flexible inlet and outlet options, pre-installed electronics and Diesel Exhaust Fluid (DEF) lines hook ups: all contributing to minimal work for the OEM.
Also on show at bauma is the single turbo aftercooled 1204F-E44TA, which produces 110 kW (147 hp), delivering improved fuel economy while offering great power and torque. It offers OEMs a compact aftertreatment comprising DOC/SCR modules, which removes the need for any regeneration strategy for soot, since the formulation of particulate emissions is prevented in the combustion process.
The small size of the DOC/SCR module means it can be mounted in a variety of remote locations, freeing up valuable space in the engine bay, especially in more compact equipment. Perkins does also offer the option of a service-free DPF aftertreatment unit to meet specific OEM requirements.
The range is completed by the 404F-22, which meets Stage IIIB/Tier 4 Final regulations which came into force in January 2013 in North America above 19 kW (25 hp) and in the EU above 37 kW (49.5 hp).
The four cylinder, 2.2 liter model is naturally-aspirated and produces 36.4 kW (48.8 hp) at 3,000 rpm and 143 Nm of torque at 1,800 rpm. The only addition that manufacturers will see is the aftertreatment which has been designed to be as compact as possible, with flexible mounting arrangements to ease installation.
"With the next round of emissions regulations on the horizon, Perkins is in a great position to offer construction OEMs a choice of engine solutions right up to 225 kW (300 hp). It's a range that can be precisely tailored to the application in question both in terms of machine installation and performance on site," concludes Clayton.