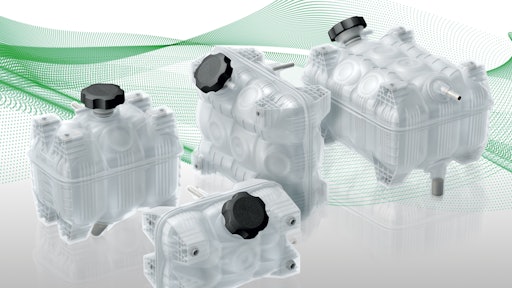 At the 2013 bauma trade fair in Munich, MANN+HUMMEL presented a range of coolant expansion tanks for mobile and stationary industrial applications. Sizes will be available with volumes from 1.5 to 8 liters. The series consisting of 24 coolant expansion tanks has a modular design which results in the possibility of many combinations. This allows integration of the coolant expansion tanks in almost any installation space. The coolant expansion tanks are designed for heavy duty applications and are correspondingly robust. They are temperature resistant, pressure resistant and resistant in relation to the chemical composition of the liquid. The available volumes cover engines with an output range up to 280 kW. The transparent plastic of the coolant expansion tank enables visual inspection of the coolant level in the tank. The materials used are characterized by dimensional stability and prevention against corrosion and leakage, also under difficult operating conditions. The coolant expansion tanks are also cost effective for small to medium-sized quantities and quickly available from stock.
On customer request special versions are possible within the scope of the modular range. The modular range enables the possibility of different variations for the position of the filling port, the coolant outlet, the return pipe and the option of an electrical level sensor. The advanced flow control of the MANN+HUMMEL coolant expansion tanks prevents the formation of air bubbles in the coolant expansion tanks and is even able to remove air bubbles from the complete cooling system.
The modular product range extends the wide range of MANN+HUMMEL products for liquid tanks and systems made from plastic. In addition to the customized products which MANN+HUMMEL delivers in series to customers in the segments for construction machines, agricultural machines, trucks and cars, customers are now able to select from a product range including up to 20,000 variations without additional development and tooling costs.