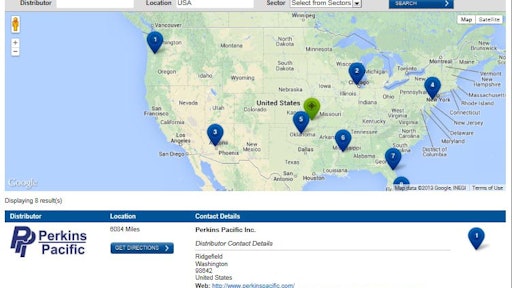 A simple solution to help customers find the nearest Perkins distributor at the click of a button has been launched by Perkins.
Available at www.perkins.com/distributor, customers simply enter their location and then press 'search.' Or, if customers already know the name of the distributor they're looking for, they can type in the name for a list of locations and contact details.
Updated in real time, the new Perkins distributor locator ensures easy access to a network of over 100 Perkins distributors with more than 3,500 outlets, ensuring that customers are never far from the support they deserve and need.
"The Perkins distributor network offers customers both global and local support," says Adrian Talbot, Marketing Center of Excellence Manager, "so it's vital that people can quickly and correctly identify their nearest outlet, whether they require service and support, genuine parts or an engine to suit their specific needs.
"This new online tool will enable Perkins-powered customers and end users to quickly make contact with a genuine Perkins distributor, wherever they are based around the world."