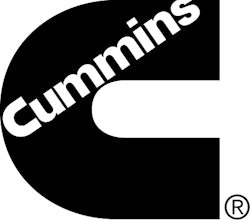 Cummins Inc. will take a unique diesel-powered race car replica to the INTERMAT show (Paris, April 20 to 25) with the "Cummins Napier Railton" proudly displayed in the booth alongside the lineup of latest engine technology. The Cummins Napier Railton is a dimensionally accurate replica of the famous Napier Railton race car which created a sensation during the 1930s with a series of record breaking achievements. The race car replica is powered by a Cummins 6.7 liter diesel, the same base engine widely used in many types of construction equipment, including excavators and wheel loaders.
While the latest QSB6.7 engine meeting Tier 4 Final/Stage IV emissions regulations offers an impressive top rating of 300 hp (224 kW), the Cummins engineers have achieved close to 500 hp (373 kW) output for the 6.7 liter diesel installed in the Railton replica.
In order to increase the 6.7 liter power capability, very high specification components were used throughout the engine including the cylinder head, pistons, fuel injectors and turbocharger. Advanced combustion and air handling techniques played a key role in enabling the Cummins Railton replica to deliver the equivalent power of the original iconic car, but with a significantly smaller Cummins diesel.
The Cummins Napier Railton replica was created by British engineer Terry Clarke, working closely with engineers located at the Cummins Darlington Engine Plant in the UK. The success of the project highlights the inherent strength of the base 6.7 liter engine and the ability of the Cummins engineers to undertake such a challenging installation task.
The original Railton car was first raced in August 1933 by John Cobb and broke the Brooklands outer circuit lap record of 143.4 mph in 1935. The racer went on to set the 24 hour record of 150.6 mph at the Bonneville Salt Flats in 1936. Now based in the Brooklands Museum (Surrey, UK), the original car car is powered by a Napier Lion XI gasoline 12-cylinder aero engine, with 24 liters and a rated power of 530 hp (395 kW).
Cummins has a strong history in racing, using it to test product durability as far back as the early 1930s. In fact, the 1931 Cummins Diesel Special No. 8 Indianapolis 500 car, built around the same time as the Napier Railton, was also driven at Brooklands during a European tour organized by the company founder Clessie Cummins. This car still runs and is displayed in the Indianapolis Motor Speedway Museum. The Cummins Diesel No. 8 became the first diesel vehicle to reach 100 mph, running on the hard sand at Daytona Beach, FL. Power came from a race modified Cummins Model U 4-cylinder, 6 liter diesel with 85 hp (63 kW).
Visitors to INTERMAT can see the unique Cummins Napier Railton diesel race car at the Cummins display, Hall 5B, stand 027. Cummins experts will be on hand to provide an insight into the race-engineered 6.7 liter engine.