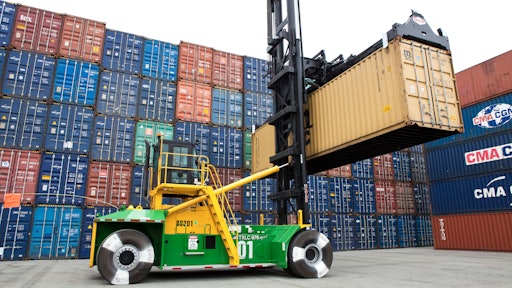 Volvo Penta has partnered with Taylor Machine Works to be the exclusive provider of 13 liter Tier 4 Final engines for use in the company's heavy-duty container handling equipment, which can be found at work in ports in the US and Canada.
From its headquarters in Louisville, MS, Taylor Machine Works designs, engineers and manufactures industrial lift equipment, including forklifts, empty container handlers, reach stackers and log stackers. Taylor has been using Volvo Penta engines since 2011, choosing the brand primarily for its ease of installation and excellent performance. The company installs the 13 liter engines into its largest container handlers, which are capable of stacking loaded shipping containers weighing up to 90,000 lbs. as high as 57-1/2 ft. in the air.
"Taylor needed a whole new approach for Tier 4 Final engines in its larger machines, and Volvo Penta's selective catalytic reduction (SCR) aftertreatment technology delivered it," says Volvo Penta Vice President of Industrial Sales Shawn Sweet. "The SCR allows customers to run the machine without the downtime that is required for regeneration with a diesel particulate filter (DPF) and diesel oxidation catalyst (DOC)."
"The Volvo Penta Tier 4 Final engine provides our customers with the best return on their investment by providing a proven, simple-to-maintain, large-displacement engine that is both highly reliable for superior uptime and highly durable for exceptional engine life," says Mike Boyles, P.E., Director of Engineering at Taylor Machine Works.