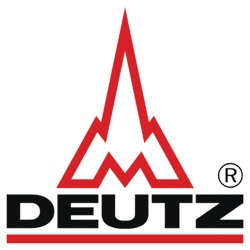 DEUTZ, the Cologne-based engine manufacturer has won the construction equipment manufacturer TEREX as a customer for its particularly powerful TCD 3.6 High Torque engine. TEREX announced it will use this engine in the latest generation (EU Stage IIIB /EPA Tier 4 final) of its TLB840R backhoe loader. DEUTZ and the TEREX Corporation have enjoyed a mutually beneficial business relationship going back many years. The American company has more than 55 years of experience in the development of backhoe loaders. For its important TLB840R machine, TEREX had been looking to install a particularly powerful, durable and reliable engine which would also offer efficient fuel consumption. The DEUTZ TCD 3.6 engine platform, which is already installed in the TEREX Group's machinery portfolio, is the optimal solution for this application.
In order to cope with the limited installation space available in the backhoe loader, DEUTZ's engineers developed a special solution by combining the particularly slim agricultural machinery variant of the TCD 3.6 with components from industrial applications. They also optimized the engine management and the relevant performance curves specially for use in the backhoe loader.
As a result, the engine provides an extraordinarily powerful 390 Nm torque curve already at 1,300 rpm. The power of 55.4 kW stays constant across the entire engine speed range of 1,500 to 2,200 rpm. This means that sufficient performance is always available, allowing equipment to be highly productive in extremely dynamic operating conditions. Even so, the engine is still below the relevant legal power output threshold of 56 kW and consequently does not need a sophisticated SCR system. In addition to its compact configuration and sturdy design, there is a further argument in favor of the TCD 3.6: just by using an open diesel oxidizing catalytic converter (DOC) for exhaust aftertreatment, the equipment can be operated at the lowest load profiles without regeneration downtimes. This characteristic is particularly valued by equipment rental companies which represent the biggest customer group for this product.
The water-cooled TCD 3.6 four-cylinder engine platform includes a variety of solutions which can be widely applied in construction equipment, agricultural machinery and material handling. The variants extend from a power output of 55 kW and a maximum torque of 330 Nm to 100 kW and a maximum torque of 500 Nm. The extremely compact design of the TCD 3.6 and its modular exhaust aftertreatment system also offer customers great flexibility for low installation costs.
Companies in this article