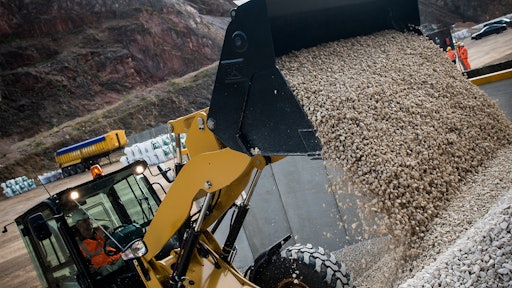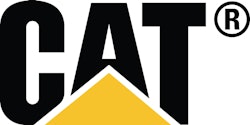 The new Cat M Series Compact Wheel Loaders—906M, 907M and 908M—feature Caterpillar's exclusive Optimized Z-bar loader linkage, which combines aggressive digging power with parallel lift. These models use a 75 gross hp engine with an electronically controlled hydrostatic drive system that meets US EPA Tier 4 Final/EU Stage IIIB emission standards. Electro-Hydraulic controls allow for engineering enhancements for the drive system, implement controls, auxiliary hydraulic system and loader linkage. A range of work tools and couplers are available, ensuring optimum versatility and productivity. Valuable options including a high-speed configuration, ride control system and high-flow hydraulics make the M Series Compact Wheel Loaders even more productive in landscaping, agricultural, industrial, snow removal and general construction applications.
Design features
The M Series features the Cat C3.3B engine, transversely mounted with excellent service access for routine maintenance items. Single-plane coolers use an efficient hydraulically driven fan or an optional Cat Demand Fan that operates at maximum speed only when required. An ECO mode regulates the engine's high idle while maintaining full rimpull and breakout force capability - saving fuel and lowering sound levels for the most common tasks where maximum productivity is not required. Exhaust aftertreatment utilizes a diesel particulate filter to achieve emissions standards.
The Cat Hystat system can achieve up to a 22 mph (35 kph) top speed for these models with the optional stop-to-shift transmission that allows the operator to choose between max rimpull and max travel speed via a convenient switch on the RH console and automatically regulates speed during downhill travel.
The Deluxe cab features two side-entry doors, low-effort electro-hydraulic joystick, suspended pedals, tilt steering wheel, air-suspended and heated seat and optional security keypad. The multi-function loader-control joystick also incorporates transmission and differential-lock controls plus proportional control of auxiliary circuits. The updated display is not only larger and thus easier to read, but also provides more information to the operator such as engine speed.
These machines are available with two coupler options, a Skid Steer Loader style coupler, compatible with most skid steer loader work tools, as well as the Cat coupler, designed to work with a full range of Cat buckets, optimized pallet forks and certain competitive attachments.
Custom performance
The versatility and operator convenience designed into the M Series are further enhanced with new options, the Road Feature and Load Feature Packages, which include a new electronic, soft-touch keypad for convenient control of most functions.
The Road Feature Package includes a Ride-Control system that cushions boom cylinders when the machine is traveling with a load in rough terrain, smoothing the ride and retaining material. Also, a variable-speed Creeper Control allows ground speed adjustment independently of engine speed for precise control of continuous-operation work tools, such as snow blowers and brooms. An Electronic Throttle Lock automatically maintains (or resumes) a set engine speed to allow work tools to function at a high RPM for maximum hydraulic power. Thus, the Creeper Control and Electronic Throttle work together for optimal work tool performance and ease of operation.
Also included are an Implement-Modulation System for adjusting hydraulic response to one of three levels and a Hystat Aggressiveness Control that provides three levels of machine acceleration and directional-change response. These features permit operators to program the machine to their preferences or to job-site conditions.
The Load Feature Package includes the Electronic Throttle Lock, Implement-Modulation System and Hystat Aggressiveness Control, while also incorporating additional features to assist operators during the loading cycle: Rimpull Control and Return to Dig
Rimpull Control increases productivity and lowers operating costs by reducing tire slip in poor underfoot conditions, yielding more efficient bucket loading and reduced tire wear. The operator can select among four settings to adjust power at the wheels to working conditions: 60, 80, 90 or 100% of the Hystat system's pushing force. Also, the M Series brake pedal functions as an inching pedal during the first half of its stroke, decelerating the machine hydrostatically.
Return To Dig automatically repositions the bucket for the next loading cycle when the operator places the joystick lever in the bucket rack-back detent after dumping into a truck or hopper. This feature is adjusted at the tilt cylinder.
Security, fleet management
For added protection, the available Machine Security System now integrates keypad access for engine starting, allowing protected digital access to the ignition without a specially designed key. This system not only prevents the engine from starting, but also locks out the hystat and implement controls, adding an additional level of security. Cat Connect makes smart use of technology and services to help improve jobsite efficiency. LINK technologies, like the optional Product Link system helps fleet owners manage equipment productivity and lower owning and operating costs through the online VisionLink interface by tracking critical items, such as location, hours, fuel usage and diagnostic time.