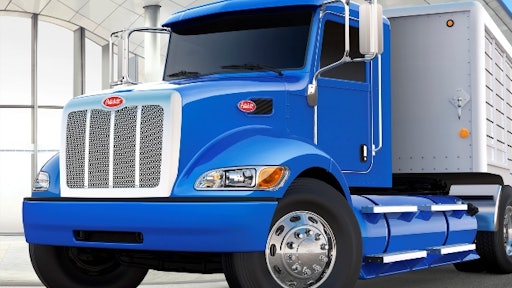 Peterbilt Motors Company introduced two new medium-duty vehicles powered by compressed natural gas (CNG) during the Mid-America Trucking Show: the Model 337 and the Model 348. Both vehicles are now in production and can be configured as trucks or tractors.
"Peterbilt is the established market leader in natural-gas powered Class 8 commercial vehicles and we're pleased to bring this expertise to medium-duty markets," says Darrin Siver, Peterbilt General Manager and PACCAR Vice President. "Peterbilt's award-winning medium-duty trucks – renowned for their versatility, quality and performance – are now available for customers who want to operate with cost effective, environmentally sound CNG. This is an ideal choice for dump, refuse and short- and regional-haul operations."
Peterbilt displayed a CNG-powered Model 337 in its exhibit at the show.
According to Scott Newhouse, Peterbilt Chief Engineer, the new medium-duty models are optimized for this configuration with 110-inch BBCs.
"The CNG Models 337 and 348 give Peterbilt the industry's most competitive portfolio of natural-gas vehicles," Newhouse says. "The dimensions provide a BBC 2 in. shorter than any competitive model and a cab height that is 2.5 in. lower."
Newhouse says the optimized spec, including steering geometry that provides up to a 50 degree turning angle, provides improved maneuverability in congested city and jobsite operations.
Both the Models 348 and 337 are powered by the Cummins Westport ISL-G with 320 hp and 1,000 lbs.-ft. of torque. The engine complies with EPA 2010, 2013 and CARB emissions regulations.