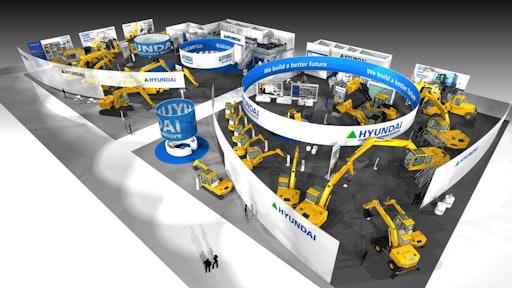 Hyundai Heavy Industries (HHI) will present an extensive range of equipment for the construction, utility, forestry and logging, recycling and waste handling, and mining and quarrying industries highlighting Tier 4/Stage Ⅳ models at INTERMAT 2015.
The showcase lineup includes the world debut of excavators and wheel loaders which answer customers' needs and environmental requirements.
The most significant change introduces diesel engines compliant with Tier 4/Stage Ⅳ standards to reduce exhaust emissions and to improve fuel economy. The wide range of updates cover cabs featuring a dashboard and an instrument cluster, hydraulic control and exterior design.
HHI will showcase a total of 27 construction equipment machines and two forklift models on its booth in hall 5B. The impressive machine list can be found at the end of this release.
Mini/Midi Excavators
Among eight mini/midi excavators ranging in the operating weight from 1.6 up to 8.0 tons, the fully remodeled R17Z 9A will be launched in the first quarter of 2015 and the R25Z 9A is newly fitted with a more powerful Kubota Engine.
Heavy Line Excavators
Hyundai has changed the heavy line excavators into HX Series by introducing Tier 4/Stage IV compliant machines. All-new HX Series ranging from the HX220L (22 tons) to the HX520L (52 tons) will be easy to identify and recognize by their new design.
Wheeled Excavators
Hyundai is proud to introduce the all-new R160W-9A, which will expand the market coverage for Hyundai dealers around Europe, especially in France.
Wheel Loaders
Hyundai presents the new Tier 4/Stage IV compliant machines, HL 955 and HL 960.
Forklift Trucks
Hyundai will display two new heavy diesel forklift trucks at INTERMAT 2015. Look out for the all-new heavy diesel Hyundai 80D-9 forklift with 8,000 kg lifting capacity and the heavy diesel Hyundai 180D-9 forklift with 18,000 kg lifting capacity.
Hyundai Booth at INTERMAT 2015
At INTERMAT 2015, HHI will highlight the results of its on-going investment towards global leadership.
The Hyundai stand will feature the new machine series, a merchandising shop, an excavator simulator, a photo booth, an operator's café and daily entertainment.
For Hyundai customers, several hospitality areas are equipped at the stand.
Visitors are welcome at the Hyundai booth in hall 5B. Staff members from Hyundai headquarters in South Korea, HHI Europe and the French Hyundai dealers are looking forward to meeting visitors.
Jung Jun-cheol, new Managing Director of HHI Europe, says, "Market conditions continue to be tough for everyone, but Hyundai believes that it is important to demonstrate not only its latest products and innovations but also its continued commitment and support to all customers and dealers."
Machines HHI will display at INTERMAT 2015 include:
1. R16-9 – mini excavator
2. R17Z-9A - mini excavator (world premiere)
3. R25Z-9AK - mini excavator
4. R35Z-9 - mini excavator
5. R55-9A - midi excavator
6. R60CR-9A - midi excavator
7. R80CR-9A - midi excavator
8. R125LCR-9A - heavy excavator
9. R145LCR-9A - heavy excavator
10.HX220L - heavy excavator (world premiere)
11.R235LCR-9A - heavy excavator
12.HX260L - heavy excavator (world premiere)
13.HX300L - heavy excavator (world premiere)
14.HX330L - heavy excavator (world premiere)
15.HX380L - heavy excavator (world premiere)
16.HX520L - heavy excavator (world premiere)
17.R55W-9A - mini wheeled excavator
18.R140W-9A - heavy wheeled excavator
19.R160W-9A - heavy wheeled excavator (world premiere)
20.R180W-9A - heavy wheeled excavator
21.R210W-9A - heavy wheeled excavator
22.HL740TM-9A - wheel loader
23.HL955 - wheel loader (world premiere)
24.HL960 - wheel loader (world premiere)
25.HL760-9A WH - wheel loader
26.HL770-9A - wheel loader
27.HL780-9A - wheel loader
28.80D-9 – heavy diesel forklift (world premiere)
29.180D-9 – heavy diesel forklift