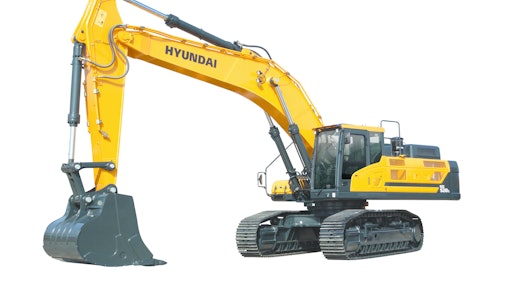 The new HX520 L is powered by a 331 kW Scania D13 engine which is compliant with the Stage IV emission standards for the reduction of particles and Nox in exhaust gasses. Hyundai has chosen a combined solution with EGR and SCR technology. This results in a reduction of fuel consumption of 3 to 6% depending on the type of work the machine is doing.
The HX520 L comes with a bucket of 3 m³ as standard. The bucket has a digging force of 280,5 kN and 11,870 mm maximum digging depth – which makes it ideal for large building and excavation tasks. The South Korean manufactured excavator is also ideal for a wide selection of attachments.
New cabin design
The cabin has also been re-designed – a new larger front screen has been incorporated and the driver's door is now easier to open from the inside with an additional handrail. The interior of the HX-cab offers 10% more space for the operator. A newly developed air conditioning system provides better air circulation in the cab.
Enlarged color touchscreen for ease of operation
One of the most important innovations on the new HX series is the new and larger 8-inch interactive touchscreen monitor – which can be operated when wearing gloves. It's also easy to read and the main view of the screen can be adjusted according to the preferences of the driver. It can be controlled via touch control and/or new haptic control switch, which is common in passenger cars. The connection to a mobile phone is easier than ever, as is the connection with external cameras for complete 360-degree visibility. Also maintenance and engine data such as fuel consumption, engine rpm, hydraulic pressure etc. can be checked immediately by the operator.
New Intelligent Power Control system
New on all Hyundai HX excavators is the Intelligent Power Control (IPS). This new device monitors the pump performance and adjusts it to the actual flow patterns in the hydraulic system. Many new components have been integrated into all HX excavators – this includes swing and travel motors, which Hyundai now design themselves.
By the end of 2015, the HX Series ranging from 12.5 to 90 t will be available for European customers.