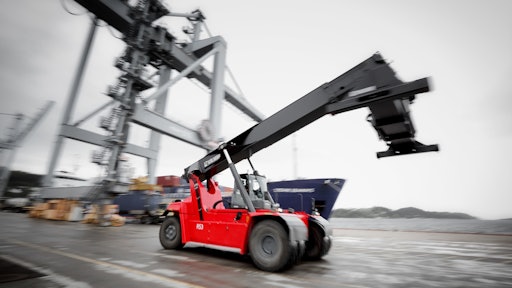 Volvo Penta has been a supplier to Kalmar Reachstackers, a division of Cargotec, for 30 years, and the companies have done extensive product development together — including the ultra-efficient new driveline for the latest 45-ton-capacity Gloria reachstacker.
Kalmar and Volvo Penta worked together with Dana Rexroth Transmission Systems for two years on the project and, using a combination of hydrostatic and mechanical drives — both proven technologies — came up with an efficient new transmission that is said to be a first in the industry. The Kalmar K-Motion drivetrain can reduce fuel consumption by 40% and, with lower rpm and maximum revs, lower noise by up to six decibels.
A more efficient transmission and smarter software mean that engine size can be reduced. Instead of using an 11-liter Volvo Penta engine, Kalmar was able to use a D8. The lower-displacement engine further contributes to decreased fuel consumption. Working closely with Kalmar, Volvo Penta was able to configure an engine specially to match the Gloria's needs.
"It's important to have a deep cooperation with suppliers for a number of reasons but especially as integration becomes more and more essential," says Stefan Johansson, Sales and Marketing Director of Kalmar Reachstackers. "Today the focus is on building a complete system with components that work in harmony for maximum efficiency — rather than just throwing disparate parts together. Volvo Penta is a big name in engines and one of our valued and trusted partners, and we're very pleased with the joint solution we've created, together with Dana Rexroth."
"The application of a new technology, such as the Dana Rexroth hydromechanical variable transmission, requires harmonization between the various subsystems to achieve performance and fuel savings targets at the vehicle level," says Diego Cornolti, Head of Sales and Product Management at Dana Rexroth Transmission Systems. "The success of this collaboration can be attributed to the in-depth application knowledge of Kalmar and Volvo Penta, which is reflected in their strong market positions."
"From our perspective, this triangle of collaboration has been a roaring success," says Volvo Penta Key Account Manager Johan Burgren. "We've fine-tuned the application to optimize fuel consumption and drivability — which benefits the customer greatly. We were very grateful to be part of this project and that they chose Volvo Penta for this."
Kalmar will display the new K-Motion solution for Gloria reachstakers to the public for the first time at TOC Europe, an exhibition for ports, terminals and shipping lines in Rotterdam June 9 to 11.