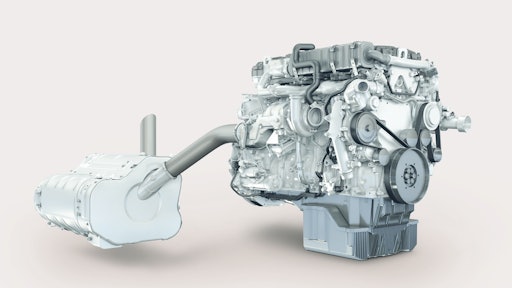 Rolls-Royce will be presenting its MTU engines for the Stage V off-highway emission regulations expected to come into force as of 2019 to the construction industry for the first time at bauma 2016. The world's leading trade fair for construction machinery takes place from April 11-17, 2016 in Munich. On stand 314 in Hall A4, the company will be presenting engine systems for construction site vehicles, industrial and mining applications. Additionally there will be mobile and stationary diesel gensets from MTU Onsite Energy on show, which are ideally suited to the generation of electric power on construction sites. The MTU and MTU Onsite Energy brands are part of Rolls-Royce Power Systems.
Engines for the 100-480 kW power range
MTU Series 1000 to 1500 engines are currently being further developed jointly by MTU and Daimler to meet EU Stage V regulations based on Daimler commercial vehicle engines. They are expected to be available in the 100-480 kW power range in good time for the planned introduction of the EU Stage V emission standards in 2019. The MTU engines meet the new emission limits for soot particles using advanced internal engine technology, an SCR system and an additional diesel particulate filter. Two 6-cylinder Series 1000 and 1500 engines will also be on display on the company's stand, in addition to the associated exhaust aftertreatment system.
Bernd Krüper, Head of Construction & Agriculture Business, says, "Construction companies will benefit immediately from the advanced technological developments for EU Stage V: what we strive for from the development work are higher torque at low rpm, a further reduction in fuel consumption and an extended power range compared with the previous engines that were designed to meet EU Stage IV."
Engines for the power range above 500 kW
MTU will also have two Series 1600 and 2000 12-cylinder engines on display for the power range beyond 500 kW. The Series 1600 engines are available for the 567-736 kW power range. In addition to complying with the US EPA Tier 4 emission regulations, they are also designed to meet the future EU Stage V regulations using internal engine technology only. No exhaust aftertreatment is required. The MTU Series 2000 engines for installation in construction equipment cover a power range extending from 560-1,000 kW and are compliant with EPA Tier 4 emission regulations. They also meet the US standards using internal engine technology only.
Engines for all applications and relevant emission levels
MTU supplies engines for all areas of application in the construction industry. They are designed to meet the exhaust emission regulations in each of the countries in which they operate. They are installed in excavators for example, dump trucks, wheel loaders, road construction equipment, telescopic handlers, compressors and in underground mining vehicles. MTU is the leading engine manufacturers for mobile cranes.
Companies in this article