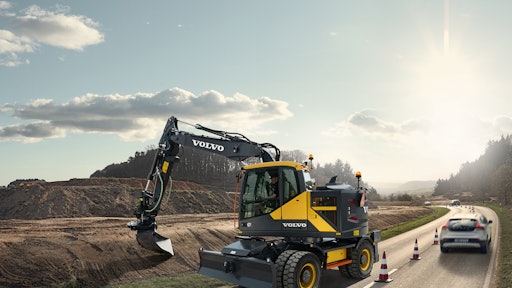 The new EWR150E wheeled excavator from Volvo Construction Equipment boasts the shortest swing radius of all Stage IV/Tier 4 Final machines on the market. At 1,720 mm, this machine allows the operator to work in even the most confined job sites with industry-leading safety and efficiency. Volvo has included the customer at every stage of the machine's design and manufacture, working in partnership to ensure optimum productivity and profitability.
The machine's class-leading short swing radius allows the operator to work safely in a variety of conditions, including narrow single lane roads. And, with improved lifting capacity compared to a conventional excavator in this class, the operator benefits from this short tail length without compromising on reach, lifting and digging performance.
An efficient Stage IV/Tier 4 Final Volvo engine with V-ACT technology offers high torque at low engine speeds to lower fuel consumption. This efficient engine features Volvo's intelligent ECO mode to lower emission levels, reducing its environmental impact and meeting the latest emissions legislation. For regeneration that does not impact operations, the EWR150E is equipped with Volvo's new intelligent passive regeneration system.
An efficient environment
An industry-leading Volvo cab offers outstanding visibility for safer operations. This machine can also be equipped with the optional Volvo Smart View – three cameras attached to the frame combine to create a bird's eye view of the machine. The cameras provide individual views of the machine so the operator can see all angles and ensure safe rotation.
The Boom Suspension System with hydraulic circuit and gas pressure dampers enables the operator to travel faster over rough terrain, while the overall hydraulic system has also been improved for greater responsiveness. The robust excavator axles with automatic or operator-controlled front axle oscillation are highly durable, as is the undercarriage, which protects itself through high ground clearance and is strong enough to endure tough environments.
Customers can choose from 12 different tire configurations (including single and twin), according to the ground conditions. This machine is approved for road use and can be fitted with a trailer hitch that can pull up to 8 T with over-run breaks and 3 T without brakes. Operators can also bring all their tools along with them in a special drawer-type tool box that slides out from the undercarriage. This new feature can carry up to 120 kg. There is also further storage inside the cab, as well as ample leg room. All machine interfaces, including the joysticks, keypad and large LCD monitor, are ergonomically positioned and designed for optimum control and efficiency. For further convenience and ease of use, the number of switches has been significantly reduced.
A versatile choice
The EWR150E can be ordered with one of two undercarriage types, tailoring the weight and drawbar pull of the machine to any application. The lightest possible configuration weighs 15.2 T and features a welded undercarriage with a radial blade and an EW140-class drivetrain. The heaviest configuration weighs 17.8 T, offering a bolted undercarriage with a parallel blade, bolted outriggers and EW160-class drivetrain for a 30% higher drawbar pull.
The EWR150E is also compatible with a wide range of attachments. With Steelwrist tiltrotators and quick couplers, durable buckets and breakers, the EWR150E can not only work in tight spaces, but it can dig, load, break and move material in the most efficient and productive way. Optional hydraulic functions 'X1 breaker/shear' and 'X3 tilt rotate' provide power for attachments requiring one- or two-way flow and two-way flow for tilting or rotating attachments respectively. A user-friendly attachment management system allows storage of up to 20 different attachments. The system lets the operator pre-set hydraulic flow and pressure inside the cab through the monitor, which allows for the use of various attachments for increased versatility.
This machine has been designed with ease of servicing in mind. As soon as the machine is started, it automatically checks all fluid levels on board, including engine oil and hydraulic fluid, and alerts the operator if any attention is required on the electronic display. For ease of refueling, an electric fuel filler pump delivers 50 L of fuel per minute. It is conveniently located next to the fuel tank and can be accessed for ground level.
With its class-leading 1,720 mm swing radius, the EWR150E from Volvo CE is a versatile, efficient machine – ideal for safer operations in confined job sites.