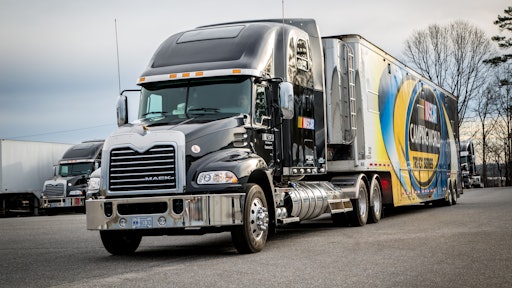 Mack Trucks and NASCAR have announced a multi-year agreement designating Mack as the "Official Hauler of NASCAR." Mack made the announcement during NASCAR's DAYTONA 500 media day event. As part of the agreement, Mack provided a fleet of custom-designed Mack Pinnacle sleeper models spec'd to answer the challenges of the grueling NASCAR schedule.
"Mack and NASCAR are two fundamentally American brands, and we couldn't be more excited to join forces and serve as the 'Official Hauler of NASCAR,'" says John Walsh, Mack Vice President of Marketing. "This partnership enables us to get Mack, our trucks and our technology in front of millions of NASCAR fans, a significant number of whom are part of the transportation industry."
Throughout the 36-race, 10-month long season, NASCAR haulers travel thousands of miles between race locations, delivering tons of critical technology and equipment to help ensure a successful race weekend. NASCAR's fleet of Mack Pinnacle models embarked on its inaugural journey to NASCAR's season-opening race, the DAYTONA 500, at Daytona International Speedway in Florida.
"The Mack Trucks brand has been a part of American culture for more than a century and is globally recognized for manufacturing a best-in-class product," says Steve Phelps, NASCAR Executive Vice President and Chief Marketing Officer. "The custom-designed Pinnacle models are masterfully engineered and we are proud that they will lead the NASCAR convoy to the track each race weekend."
With its legendary Mack toughness, the Mack Pinnacle sleeper model is built for any challenge the open road can throw at it. Each of NASCAR's custom-spec'd Pinnacle models is equipped with Mack's 13 L MP8 engine that delivers 505 hp. The trucks are also outfitted with the game-changing Mack mDRIVE automated manual transmission that helps boost fuel efficiency and productivity without sacrificing performance. The Pinnacle model, like all Mack trucks sold in North America, is built in the U.S.A.
The fleet is also armed with Mack GuardDog Connect, a telematics system that brings the right blend of technology and people together to maximize uptime. Acting as an onboard pit crew, GuardDog Connect proactively monitors critical fault codes that could shut a truck down.
When a potential issue is detected, GuardDog Connect automatically notifies Mack OneCall agents at the 24/7 Mack Uptime Center, as well as the driver and designated fleet contact. An action plan for repairs, a check for available parts at the nearest service center and detailed repair instructions are also completed, all while the truck is still on the road.
Support for the fleet of Pinnacle models will be led by Transource Truck & Trailer Center, a Mack dealer with seven locations across North Carolina. Mack partnered with Transource in providing the trucks.