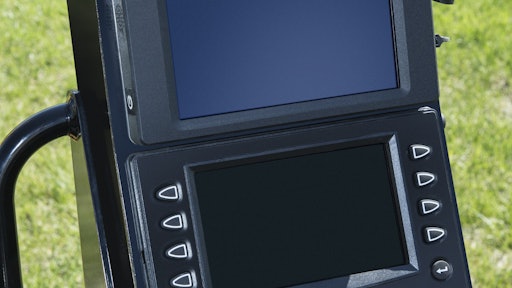 The Vermeer D40x55 S3 Navigator horizontal directional drill (HDD) adds more punch and drilling force over its predecessor — the D36x50 Series II Navigator HDD — to offer contractors premium performance, class-leading cycle times and flexible rod options.
"Contractors considered the D36x50 Series II as one of the most versatile drills in the industry, and the D40x55 S3 is built on this versatile platform," says Jon Kuyers, Senior Global Product Manager, Underground, for Vermeer. "This machine packs more torque and pullback force into the same footprint, offering contractors a machine that can efficiently complete a wide range of work ranging from 2-16 in. (5-40.6 cm) in diameter."
Speed, simplicity and sound are the trademarks of the Vermeer S3 generation of directional drills, and the D40x55 S3 does not disappoint. With 40,000 lbs. (177.9 kN) of thrust/pullback and 5500 ft.-lbs. (7458 Nm) of rotational torque, the D40x55 S3 offers a more than 10% increase in thrust and rotation over its predecessor, the D36x50 Series II — helping to maximize productivity.
A 104 dBA guaranteed sound power level and an operator ear rating of 82.9 dBA make this drill significantly quieter than its predecessor — which makes for a quieter working environment with less neighborhood disturbance and easier communication among the crew. The D40x55 S3 features a carriage speed of 188 fpm (57.3 m/min) — which is 7% faster than its predecessor — helping contractors install more linear feet per day.
Versatility is at the heart of the D40x55 S3, allowing contractors to select the ideal drill configuration for the specific need. They can choose from three drill rod options: 10 ft. (3 m) rod in 2.38 in. (6 cm) or 2.63 in. (6.7 cm) diameters and 15 ft. (4.6 m) rod with a 2.63 in. (6.7 cm) diameter.
A 140 hp (104 kW), liquid-cooled, turbocharged diesel John Deere 4045 4.5L Tier 4 compliant engine delivers robust power, while a redesigned excavator-style climate-controlled cab allows operators better visibility, more legroom and greater comfort in unfavorable climate conditions. 
A common control system benefits drill operators with the ability to operate a variety of Vermeer drills and lessens the time needed for training. This includes a digital display, improved onboard diagnostics and common joystick controls. The system design uses a power distribution module that reduces the amount of wiring and fuses for greater reliability. A DigiTrak Aurora interactive, full-color touchscreen display delivers real-time, easy-to-view location information, bore plans; and more to help increase operator productivity. 
An onboard self-diagnostic system empowers contractors to make machine adjustments when required and helps to maximize productivity. The InSite Fleet remote monitoring system comes standard on the D40x55 S3 and is available now.