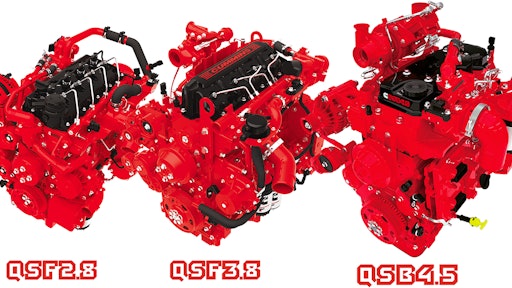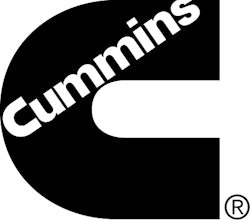 Cummins Inc. is displaying the current generation of Tier 4 Final 4-cylinder engines, aftertreatment and Connected Diagnostics - Cummins telematics solution - in its Booth 4517 at the Rental Show through February 24 in Atlanta, GA. The product offering being shown demonstrates Cummins' commitment to continue to offer the most effective solutions for the rental market. On display is Cummins' full Tier 4 Final 4-cylinder product line, including the QSF2.8 (49-74 hp), QSF3.8 (74-130 hp) and QSB4.5 (113-173 hp). These products offer an ideal range of displacement and horsepower, as well as simplified technology that allows for compact installation packages, making them well-suited for space-constrained construction and material-handling equipment. Additionally, a QSB4.5-powered mobile rental generator set with 200 kW output is being featured.
Cummins' 4-cylinder product line, spanning from 49-173 hp (37-129 kW), is certified to meet U.S. Environmental Protection Agency (EPA) Tier 4 Final low-emissions regulations, and all are fully integrated with exhaust aftertreatment systems designed and manufactured by Cummins Emission Solutions. This integration allows aftertreatment size and technology to be precisely matched to engine output and intended equipment type. Cummins Tier 4 Final aftertreatment solutions - the "fit and forget" Diesel Oxidation Catalyst (DOC) for ratings below 75 hp (56 kW), rugged Selective Catalytic Reduction (SCR) system which has been designed to last the life of the engine, and the combined DOC-SCR system designed for use at higher outputs - is also being shown in the booth.
Additionally, Cummins is also highlighting Connected Diagnostics at the Rental Show. Active in over 30,000 on-highway vehicles today and soon to be available for off-highway equipment, Connected Diagnostics is a customers' lifeline to Cummins when they need it most. Through a telematics connection, a customer's Cummins-powered equipment wirelessly connects the engine to Cummins for immediate diagnosis of an engine system fault alert, and provides valuable information they need within seconds.
All Cummins products are backed by the support of the Cummins Care network - a central point of contact for rental shops and operators of Cummins-powered equipment, available 24/7 by calling 1-800-DIESELS(TM) (1-800-343-7357). Cummins Care offers assistance in locating the nearest service locations, and provides information about the latest engine and product technology.