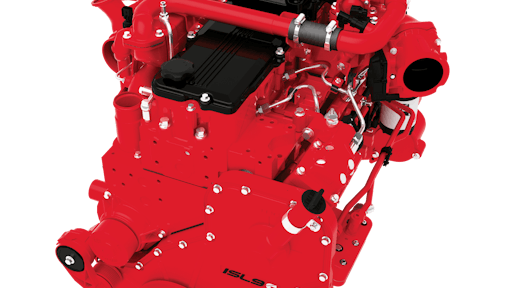 International Truck announced at The Work Truck Show 2016 the availability of the International DuraStar and WorkStar models powered by the Cummins ISL9 engine.
"Adding the Cummins ISL9 to our lineup is a key part of our strategy to offer the most comprehensive options of proven components in the industry to our customers," says Bill Kozek, President, Truck and Parts. "The addition of the Cummins ISL9 to DuraStar and WorkStar models provides customers with a winning combination of uptime, performance and durability."
The Cummins 9-liter engine now expands the DuraStar and WorkStar models' robust powertrain options. The ISL9, which is rated up to 380 hp and 1,250 lbs.-ft. of torque, features flexible horsepower and torque ratings for medium-duty and vocational applications.
"Cummins and International have worked closely together to engineer the ISL9 in the DuraStar and WorkStar - offering a unique value package combination of performance and reliability," adds Kozek. "With the launch of the ISL9, we continue to focus on meeting the needs of our customers by delivering innovative, best-in-class products for a wide range of applications."
The International DuraStar is also available with the Navistar N9 engine from 275 hp, 860 lbs.-ft. of torque up to 330 hp, 950 lbs.-ft. of torque. The International WorkStar is available with Navistar N9 and N10 engines from 275 hp, 860 lbs.-ft. of torque up to 370 hp, 1,250 lbs.-ft. of torque, and the N13 engine with 365 hp 1,250 lbs.-ft. of torque up to 475 hp, 1,700 lbs.-ft. of torque. All International medium-duty and vocational trucks feature the International Diamond Logic electrical system, helping vocational operators work smarter, faster and safer, while also preventing drivers from inadvertently damaging valuable equipment. DuraStar and WorkStar models are also available with a suite of traditional manual and automated-manual transmission offerings from Eaton and fully-automatic offerings from Allison.
The DuraStar and WorkStar with Cummins ISL9 are available for order today and will be in production this summer. The International DuraStar and WorkStar with the Cummins ISL9 engine will be on display this week at the International Truck booth (3859) at the NTEA tradeshow.
Companies in this article