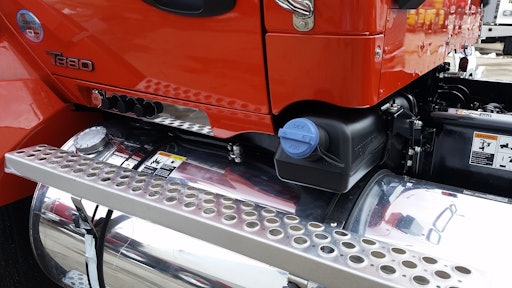 Kenworth will offer a new clear back-of-cab, DEF tank configuration option for the Kenworth T880 vocational flagship and Kenworth T680 on-highway leader.
The option is designed to maximize fuel capacity by removing the DEF tank from the frame rail and mounting it above the fuel tank and under the cab. When combined with an in-cab battery box, right-hand under-cab aftertreatment and left-hand under-cab fuel tank, this new option can provide clear back of cab to assist in body installations.
"Kenworth was the first in the industry to introduce a clear back of cab DEF tank design for a Class 8 truck (Kenworth T800) with 2010 EPA emissions regulations. With this new configuration, customers can now order the award winning T880 and T680 with this option," says Jason Skoog, Kenworth Assistant General Manager for Sales and Marketing. "Customers can more easily accommodate service bodies without requiring a lot of customization, and body installers can also more easily relocate all the tanks and pumps to meet their own requirements because the DEF tank will be tucked out of the way above the fuel tank."
The configuration features a new lightweight 7.3-gal. DEF tank, which shaves about 25 lbs. off the weight of a standard-mounted DEF tank. It also clears the way to install larger fuel tanks, giving the truck a longer range. 
"Customers operating super dumps, mixers, wreckers, crane trucks, fire and rescue units and various other service bodies will soon find it much easier to offer their drivers either one or both of Kenworth's flagship heavy-duty trucks," Skoog says. "That's good news for those looking to take advantage of the many driver amenities both models offer. The T880 and T680 cabs both feature robust triple-sealed doors, panoramic windshields for increased visibility, plus a comfortable 23 in. of room between the seats. Savvy customers know being able to provide trucks that deliver comfortable and productive work environments can ultimately result in the attraction and retention of their best drivers."