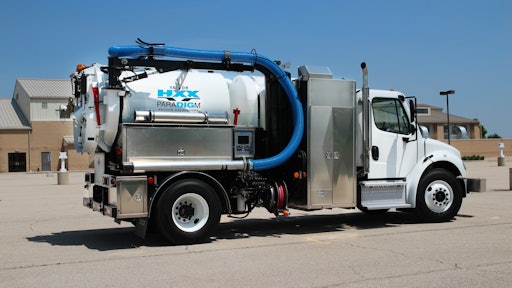 Vactor Manufacturing, the industry leader in vacuum excavators, sewer and catch basin cleaners and industrial vacuum loaders, has introduced the Vactor HXX ParaDIGm vacuum excavator for utility, municipal and contractor customers involved in the installation, maintenance and repair of underground water, sewer, gas, electric and telecommunications lines. This compact, multi-use truck can dig holes with water or air; vacuum, contain and dispose of drill mud; power pneumatic, hydraulic or electrical tools; and provide transport and storage of replacement parts, equipment and tools.
In addition, the ParaDIGm is ideally suited for subsurface utility engineering (SUE) contractors and other design planning firms involved in civil, road, municipal, commercial, industrial and residential projects.
"With the introduction of the ParaDIGm vacuum excavator, Vactor now provides the broadest product offering of water and air vacuum excavators, from very large units to the new, compact HXX ParaDIGm, in North America," says Ben Schmitt, Product Manager, Vactor Manufacturing.
The ParaDIGm vacuum excavator is the result of a comprehensive, customer-focused design process based on qualitative field research involving more than 100 utility customers responsible for expanding, maintaining and repairing underground water, sewer, gas, electric and telecommunications conduits.
"Utility professionals have to be problem solvers each and every day, because they don't know what they might run into when they arrive on the job," Schmitt says. "They have to be prepared for anything, which is why they bring additional replacement parts, repair tools and equipment with them. With the ParaDIGm, they have a powerful vacuum excavator that can also store, haul and power all the tools and equipment they may need on the job."
Quick setup
The ParaDIGm decreases the time associated with setup and tear down between excavated holes, significantly increasing productivity. The trademarked "Park-n-Dig" design minimizes the time between arriving on the job site and excavation, including the ability to dig up to 6 ft. in depth without additional pipe and hose.
Increased versatility
With the ability to use air or hydro excavation as the digging method, the ParaDIGm is a versatile vacuum excavator that can be used in a variety of applications.
"Having the option to select air or water digging allows the operator to use the most effective method for soil conditions," Schmitt says.
The air compressor, which is standard on the ParaDIGm, is able to power utility tools such as jackhammers and tampers that may be used on the job. The truck features substantial storage space for these tools, including a long-handle tool box. The truck can also tow up to 20,000 lbs.
"When the jobsite is hours away from the shop, having storage for all the needed tools and equipment, especially on an emergency leak, is important to our utility customers," Schmitt says.
Powerful vacuum
The machine features a 6-in. hose and a powerful vacuum system capable of up to 2,200 CFM and 15 in. Hg of vacuum. The larger hose and vacuum system make the ParaDIGm a more productive vacuum excavator than other units this size.
The standard extendable boom with 6-in. vacuum hose delivers more than double the airflow when compared to competing models with 3- or 4-in. vacuum hose and a boom as an upgraded option. Because of this, the ParaDIGm's larger 6-in. vacuum hose reduces hose clogging frequently found on smaller vacuum systems.
Additionally, the ParaDIGm features a 4-in. rear loading port and hose system for quick excavation or cleanout applications.
Increased payload hauling capabilities
With a maximum payload of more than 6,000 lbs. of spoils, no other vacuum excavator in this size range can match the ParaDIGm's payload hauling capability.
"Weight enforcement is an important issue within the vacuum excavation industry, as overweight fines can be significant," Schmitt says. "The ParaDIGm's payload is nearly three times the payload of larger sized vacuum excavators."
Single engine design
The ParaDIGm features a powerful, single-engine, PTO-driven design that drives all vacuum, air and water systems.
"Unlike other vacuum excavators this size that require two engines – one to power the truck chassis and one to generate vacuum and excavating power – the ParaDIGm delivers superior performance with a single engine," Schmitt says. "This saves on fuel, parts, time and money spent on additional engine maintenance. It also decreases job setup time and increases productivity."
Non-CDL chassis
The ParaDIGm is available on a Class 6 (non-CDL, state dependent) chassis, which is helpful for vacuum excavator operators who don't have a commercial driver's license. The ParaDIGm is also available in a Class 7 chassis (CDL required) for customers looking for increased payload capacity. The compact, low-profile design and truck maneuverability are well-suited for tight, urban job sites.
Service and support
The ParaDIGM vacuum excavator is supported by Vactor's extensive dealer network of more than 50 dealers with service centers worldwide, as well as 12 factory direct locations through FS Solutions. Vactor's dealers are staffed with factory-trained, highly-experienced service technicians and stocked with the necessary parts to assist customers quickly and efficiently.