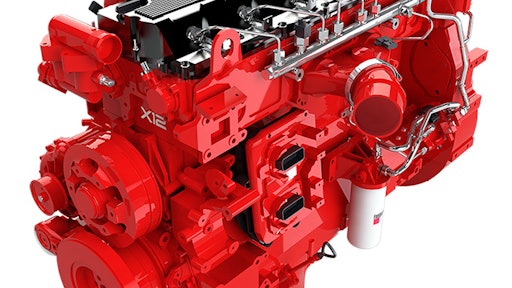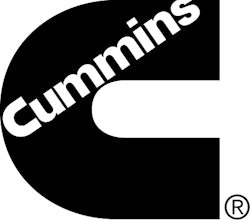 At the IAA Show, Cummins Inc., revealed the next generation X Series for heavy-duty truck applications with 15- and 12-L displacements to meet Euro 6 (VI) and equivalent emissions standards as they become globally adopted from 2019 onward.
Across a broad 350-605 hp (260-451 kW) range, the X Series introduces an innovative approach to duty-cycle optimization with a medium bore X12 engine and two big bore configurations, available as the X15 Efficiency Series and the X15 Performance Series.
The X Series engines intended for Euro 6 applications share a similar platform with the X15 and X12 recently launched for the North American Class 8 truck market that meet the U.S. EPA 2017 greenhouse gas (GHG) and fuel-efficiency standards. The Euro 6 versions of the X Series retain the same outstanding fuel efficiency and exceptional power density as their EPA counterparts, while looking to simplify engine systems and aftertreatment to meet global market applications.
A worldwide shift to low emissions standards takes effect in 2019-20, introducing regulations similar to EU Euro 6 in countries including China nationwide, India, Mexico, Brazil and Australia. With a global manufacturing, technical and service footprint, Cummins is ideally placed to support OEM domestic and export business.
"Each of the X Series engines will set a new benchmark in its class by providing unprecedented levels of performance for trucks in markets around the world as they transition to meet Euro 6-equivalent emissions standards," says Brett Merritt, Cummins Executive Director - On-Highway Business.
"We have the ability to tailor our engines to the specific needs of each OEM customer and realize the full potential of the vehicle. Because no other company builds more engines for more OEM truck models in more locations worldwide, this gives Cummins a unique degree of expertise and experience we can apply to all our installations," says Merritt.
A key design approach with the X Series design architecture was to minimizing friction losses throughout the engines, including the water pump, gear train, lube system and power cylinder. Critical components and systems were upgraded or improved to ensure the highest possible level of reliability. Every type of heavy-duty truck application was factored into creating a series of application-focused ratings. The result is an X Series platform with unprecedented levels of quality, productivity, reliability and fuel efficiency - with the ability to redefine heavy-duty truck performance worldwide.
X12 Delivers High Power Density
With the highest power-to-weight ratio of any engine in the 10- to 16-L class, the X12 enables trucks to operate at maximum payload with lower fuel consumption and more responsive driving than previously experienced from an engine of this size. Rated from 350-500 hp (260-375 kW), the X12 provides up to 2,305 Nm peak torque at 1000 rpm, reducing the need for gear shifting and giving better low-speed lugging on grades.
The innovative architecture of the X12 results in a remarkably low engine weight of below 930 kg enabled by a sculptured block design, which allows unnecessary mass to be removed, but retains high rigidity. Substantial weight savings are also achieved by the use of high-strength composite materials for the oil pan and valve cover. The Cummins XPI fuel system used on the X12 is derived from the X15 engine, a proven system that enables smooth and rapid engine response to increasing vehicle demands.
The X12 is a next-generation evolution of Cummins' newest 12-L engine platform, already proven in applications worldwide as the ISG12. The Euro 6 engine will take advantage of Cummins' new High-Performance Compact Box aftertreatment, providing a far more simplified vehicle integration than that of current systems of this type and providing extended service intervals.
X15 Builds On Best-In-Class Attributes
The new X15 platform carries forward the best-in-class attributes of the legendary ISX15, now enhanced with increased thermal efficiency and the highest compression ratio in the industry, to improve engine response and reduce fuel consumption.
The two segment-optimized engines realize the full potential of the 15-L platform. For line-haul and regional-haul applications, the X15 Efficiency Series with a 400-500 hp (298-373 kW), range offers an unmatched level of fuel economy with no compromise to engine response, with up to 2,508 Nm of peak torque available at 1,100 rpm.
Excellent driveability is further enhanced with ADEPT, SmartCoast and Predictive Cruise Control (PCC) functions, to gain a further 6% fuel economy improvement while making every driver an expert.
The X15 Performance Series, rated at 485-605 hp (362-451 kW), provides an ideal power match for severe-duty, long-distance and ultra-heavy haul operations. An upgraded high flow air-handling system gives a faster pedal response, for enhanced driveability at full payload and steep-gradient climbing. Peak torque of up to 2,780 Nm is delivered across a very wide engine rpm range, so less shifting is needed and less fuel is used. Equally powerful is the engine braking, with over 450 bhp at just 1,500 rpm and up to 600 bhp at 2,100 rpm.
To meet Euro 6 emissions and equivalent emissions worldwide, the X15 will utilize Cummins Single Module aftertreatment technology with a one-piece design that is up to 40% lighter and up to 60% smaller compared to multi-module systems.
120 HP-to-605 HP Capability
The addition of the X15 and X12 Series, together with an upgraded F2.8 will complete the Cummins product range to meet Euro 6 and similar emission standards, joining the F3.8, B4.5, B6.7, L9 and L9N natural gas engine. The 120-605 hp (90-451 kW) power range enables a power capability all the way from a 3.5-ton light commercial truck up to a 200-ton roadtrain.