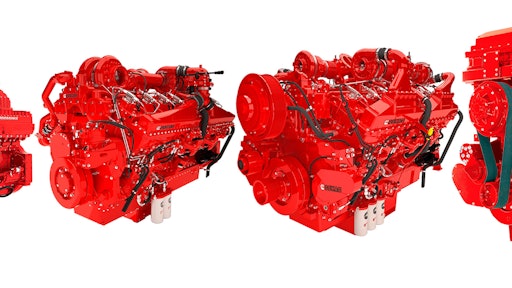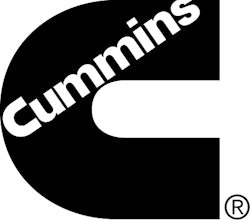 Cummins Tier 4 Final high-horsepower engines have reached a cumulative 500,000 hours testing and operation working in the toughest mining, oil and gas, and rail environments.
Zach Gillen, Cummins Executive Director - Mining Business, says, "Cummins has always been a leader in emissions-reduction technology, and we have a lot of confidence in our new Tier 4 Final products. We are accumulating over 30,000 hours of operation in the field every month, and results show that engine performance is exceeding expectations."
Cummins' Tier 4 Final mining solution is built on the proven Tier 2 engine platform, and it includes a range of engine enhancements plus the integrated Cummins Selective Catalytic Reduction (SCR) aftertreatment system. The modular SCR system reduces engine-out oxides of nitrogen (NOx) emissions to the stringent Tier 4 Final levels. Cummins has been using SCR technology since 2006, with over 1.5 million SCR systems shipped around the world.
The latest Tier 4 Final engines feature a redesigned power cylinder, upgraded turbocharging and an improved crankcase breather system, which work together to reduce particulate emissions. This improvement was achieved while maintaining the long life-to-overhaul levels of Cummins Tier 2 engines.
Fuel-injection pressure through Cummins Modular Common-Rail Fuel System (MCRS) has increased, and the larger injector accumulator volume helps reduce particulate emissions and improve fuel economy. The system is protected by Cummins NanoNet fuel filtration technology, which captures 98.7% of all particles as small as 4 microns.
Cummins Tier 4 Final engines are designed for ease of installation. Heat-rejection levels are similar to Tier 2 levels, allowing the majority of customers to utilize the existing cooling package. The SCR system is seen as a drop-in replacement for the exhaust silencers.
"We know that total cost of ownership is critical in today's market, and our Tier 4 Final products are expected to improve average fuel economy by 3-5% versus Tier 2, with a total fluid savings of 1-2%," he says.
Cummins displayed several Tier 4 Final engines at MINExpo, including the QSK50, available up to 1,500 hp (1,119 kw) with single-stage turbocharging and 2,000 hp (1,491 kW) with two-stage turbocharging, and the QSK60, available up to 2,700 hp (1,864 kW) with single-stage turbocharging and 2,850 hp (2,126 kW) with two-stage turbocharging. Both engines come with maximum torque capability of 5,375 lbs.-ft. (7,288 Nm) and 8,274 lbs.-ft. (1,1218 Nm), respectively. The Cummins two-stage turbo configuration enables operation at high altitudes (up to 12,000 ft./3,658 m) with no impact on performance.
"Our message is simple: Cummins Tier 4 Final engines leverage proven SCR technology to optimize TCO while meeting the stringent emission levels," Gillen says.