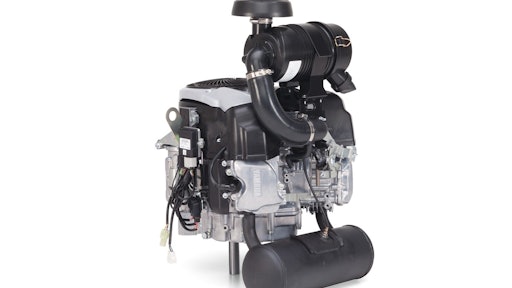 Yamaha Motor Corp., USA's, Outdoor Power Equipment division announces an all-new line of vertical V-twin engines for the lawn and garden market. Yamaha's new MX775V-EFI, MX800V-EFI and MX825V-EFI engines are purpose built for commercial landscape zero-turn radius (ZTR)
mowers.
The all-new MXV-EFI Series of engines combine Yamaha's historic quality, high performance and durability standards with landscape ZTR-specific design and development, resulting in superior performance and higher fuel efficiency than competitive models on the market.
"With the all-new MXV-EFI Vertical V-twin Series, Yamaha enters the popular lawn and garden industry opening up an entire new business opportunity for our Outdoor Power Equipment division," says Jim McPherson, Yamaha's Outdoor Power Equipment division manager. "Yamaha's commercial V-twin ZTR engines deliver a superior level of powerful performance, reliability and efficiency."
The vertical V-twin engines deliver more power and torque – ranging from 29 certified gross horsepower to 33 certified gross horsepower – than competitive models. The result is a smooth, even cut with consistent speeds even in difficult high-grass conditions. Three valve hemispherical heads, closed loop electronic fuel injection (EFI) with variable ignition timing, and low-friction design result in the most fuel-efficient engines in their class saving users both time and money.
"Yamaha's all-new line of vertical V-twin engines bring classic Yamaha reliability to the commercial ZTR lawn and garden industry," McPherson says. "The MXV-EFI series combines Yamaha's tried-and-true engineering and manufacturing, along with innovative design and technical enhancements, resulting in the most power and torque in their class perfect for commercial landscaping and mowing platforms."
The MXV-EFI engines are designed to create an easier user experience compared to competitive models. Yamaha product planners and engineers visited commercial mower OEMs, dealers, large landscapers and others while designing the MXV-EFI line. This comprehensive research and development from multiple field visits has resulted in unique features, enhanced serviceability, and a compact design that minimizes noise and vibration levels improving user comfort. Some of the unique features include easily accessible hatches that make for quick and simple maintenance, a protective rotating grass screen that protects against debris clogging, and specially designed stainless steel muffler that will fit a wide variety of ZTR mower frames.
Yamaha's new MXV-EFI Series engines will be first debuted to the general public at the 2016 GIE+Expo in Louisville, KY, on specific 2017 model year ZTR mower applications.