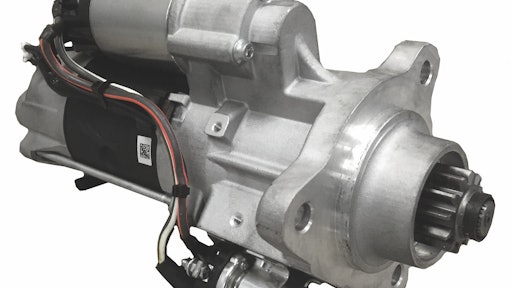 Prestolite Electric's Leece-Neville Heavy Duty Systems brand now offers a powerful and highly robust new in-line gear reduction starter motor – the M110608 – for PACCAR MX-11 and MX-13 engines and Peterbilt and Kenworth 2010 and newer applications up to 16L.
The new starter brings superior performance and reliability – along with quick, bolt-in replacement – to engines today served by PACCAR, Mitsubishi and Delco Remy 39MT units. The in-line, gear-reduction design helps ensure greater power from a lighter unit that can easily fit within tighter spaces.

Leece-Neville starters and alternators are manufactured by Prestolite Electric, a leading original equipment and aftermarket manufacturer serving customers in the trucking, construction, agriculture, mining and other markets. Prestolite operates world-class engineering and manufacturing operations based in Novi, MI, and Arcade, NY.

The new Leece-Neville 12V (7 kW) M110608 starter motor features Prestolite's Integral Magnetic Switch (IMS)/Soft Start Relay technology, which helps eliminate voltage drop issues by minimizing wiring between the relay and solenoid. Other key enhancements include a next-generation commutator with oversize copper cross-section, enlarged armature to minimize air gap losses, heavy duty brush plate for best-in-class conductivity, and an advanced e-coating on the housing for exceptional resistance to corrosion.



Companies in this article