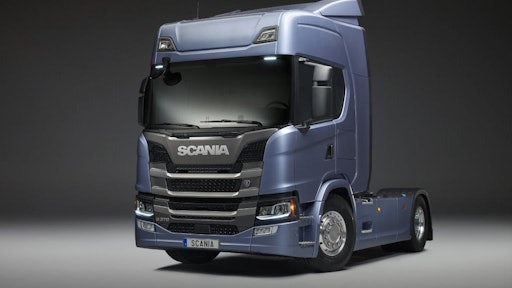 Scania is introducing a new generation of Euro 6 V8 engines that represent a new standard in fuel consumption. The engines, which are available at 520, 580 and 650 hp, can reduce fuel consumption by 7-10% for customers with vehicles that have higher combined truck and trailer weights, higher average speeds, or both. The new engine generation is Scania's response to the growing trend in the transport industry towards heavier, longer trucks, and marks a new highpoint in the company's engine building.
The new 520, 580 and 650 engines join the 730 hp engine in providing customers with the best possible strength, robustness and productivity for maximum performance on the road. Each of the new V8s are characterized by advanced technical solutions that contribute to reduced weight, increased availability, and the eye-opening 7-10% reduction in fuel consumption.
"Vehicle combinations with higher combined truck and trailer weights are a key factor in the shift to smarter transport," says Alexander Vlaskamp, Senior Vice President, Sales & Marketing, Scania Trucks. "They are also the reason behind the trend towards an increased demand for more powerful truck engines."
Scania's commitment to sustainable transport is at the heart of the new offering, but its V8 engines have always contributed to highly efficient transport solutions. The company's focus has been on the lowest possible CO2-per-tonne ratios because fewer trucks are needed to perform the same amount of transport work.
Ever since Scania introduced its first V8 close to 50 years ago, the engine family has been a favorite among demanding premium-level customers. While other high-performance engines have since come onto the market, none has had the sufficient robustness and appeal to rival the iconic position that Scania's rumbling V8 engines have with experienced drivers throughout the truck world.
With this latest new engine generation it is clear that Scania, unlike other legends, is not resting on its laurels. The company is continuing to develop its solutions all the time to stay at the forefront in productivity, driving pleasure, and attractiveness.