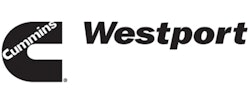 Cummins Westport Inc. (CWI) announces that it has received certifications from both the U.S. Environmental Protection Agency (EPA) and Air Resources Board (ARB) in California for its 2018 ISX12N natural gas engine. Like the Cummins Westport L9N engine, the ISX12N meets California ARB optional Low NOx standard of 0.02 g/bhp-hr, a 90% reduction from engines operating at the current EPA NOx limit of 0.2 g/bhp-hr. The ISX12N also meets 2017 EPA greenhouse gas emission (GHG) requirements.
CWI is proud to continue its legacy of emissions-leading products with all 2018 engines now certified to California ARB optional Low NOx standards. The ISX12N is the first Class 8 truck engine for larger heavy-duty vehicles to certify to the 0.02 g/bhp-hr optional standard, providing the trucking industry with a near-zero emissions solution today.
Based on the ISX12 G, first introduced in 2013, the ISX12N natural gas engine will be available with ratings from 320 -400 hp and up to 1,450 lbs.-ft. of peak torque. The ISX12N is designed for line haul, regional haul, refuse, and vocational trucks, as well as motorcoach and commuter buses. Like Cummins Westport's new L9N and B6.7N engines, the ISX12N will feature a new engine control module with improved durability, on-board diagnostics, an enhanced, maintenance-free three-way catalyst, and a closed crankcase ventilation system.
"Cummins Westport's 2018 product line offers customers ultra low emissions with reliable performance," says Bart van Aerle, President of Cummins Westport. "The ISX12N near-zero emissions natural gas engine provides truck and bus customers with an industry-leading alternative fuel option for demanding applications."
All CWI engines offer customers the choice of using compressed natural gas (CNG), liquefied natural gas (LNG), or renewable natural gas (RNG) as a fuel. RNG is pipeline-quality natural gas produced from the decomposition of organic waste, which can come from a variety of sources such as dairy farms, landfills, and urban waste treatment plants. Combining Cummins Westport's ultra low emission engines with RNG fuel provides additional and significant GHG reductions.
Production will begin in February of 2018.
Cummins Westport would like to acknowledge engine development funding support from the South Coast Air Quality Management District, SoCalGas, California Energy Commission, and Clean Energy Fuels.