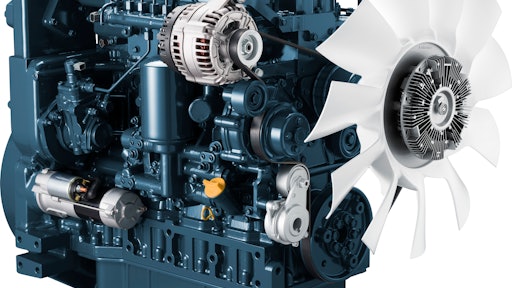 Kubota Engine

Kubota's BUEE (Business Unit Engine Europe), boosted by a record year in 2018, will showcase its most comprehensive range of power systems to date at bauma 2019, in Germany. The lineup demonstrates the company's belief that there is no one single fuel type for the future of the off-highway equipment industry. 
Kubota's long-term global business strategy has been to provide the markets with an engine platform for every fuel type and application: diesel, gasoline, liquid gas, and natural gas – with the further option of duel fuel. Kubota will also use bauma 2019 to present a new pillar within its long-term business strategy: a further-developed version of the micro-hybrid prototype engine, first showcased at Intermat 2018, Paris.
The company is now at European Stage V live and remains committed to excelling within the highly competitive global engine market. Kubota continues to invest significantly in enhancing new technologies that offer increased efficiency and optimized power systems integration. 
Cementing its position as a trusted global brand within an increasingly uncertain world, Kubota's renewed focus on energy efficiency reinforces its environmental credentials and its customer-centric approach behind the "Kubota, The Answer" tagline. Kubota is focusing equally on both new engine technologies and enhanced levels of customer aftercare. 
Highlights from the range of products on display at bauma Germany include the recently launched V1505-CR-T and D902-T. Kubota will also feature its widely-anticipated new 09 Series – which prepares to enter service in 2020 as a genuinely global engine platform – further developed for upcoming Chinese non-road emissions regulations in addition to the EPA Tier 4 and European Stage V regulations. Additionally, an evolved prototype of the new micro-hybrid engine, shown as a concept at Intermat 2018, will be showcased with the reference design.
"With a requirement for new technology married to a growing need for trusted global brands in an increasingly uncertain world, Kubota's growing sales story and strength and depth of its engines line-up has never been surpassed in our long history," says Yasukazu Kamada, Managing Executive Officer and General Manager of Engine Division, Kubota Corporation. "As we enter a new period of demand for efficiencies, emissions compliancy and whole life costs, we must consistently improve everything we do from engine design to supporting our customers."
"We have come to bauma, confident that we have the best products in the marketplace and that we are well placed to meet our customers' ever more demanding requirements," says Tony Tonegawa, Vice President, Kubota Holdings Europe B.V. – Business Unit Engine Europe (KHE BUEE). "With EU Stage V emissions regulations now live, it is more important than ever that we produce a more energy efficient range of engines that offer an increasingly global solution to any of our customers' needs."
"We do not believe that the future belongs to any one power source or technology, and we must be prepared to meet our clients' needs, whatever they may be," adds Daniel Grant, Marketing Manager, KHE BUEE. "The micro-hybrid, for example, is a potential response not to a demand for electrification, but rather the desire for greater energy efficiency which can lead to downsizing. We are hearing more and more from clients who want both regulation compliance and increased efficiency with no diminution of performance."