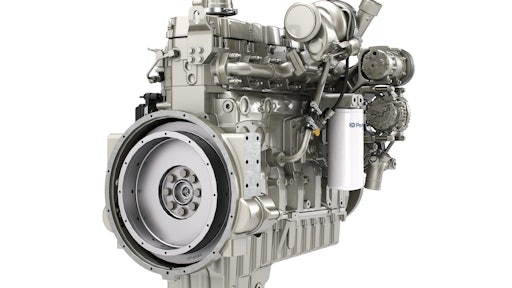 Perkins Engines Co. Ltd.

Perkins is showcasing its complete EU Stage V engine range, future technologies and aftermarket services and digital solutions at bauma Munich, April 8-14, 2019. Choice and customer collaboration, providing the right solutions for Original Equipment Manufacturers (OEMs) will be central themes on the stand as Perkins exhibits its widest choice of engines for today and for the future. 
Five engines meeting the latest Stage V emissions standards will highlight the Perkins 0.5-18 L (4-597 kW/5–800 hp) engine range -- the most comprehensive product range offered by an engine manufacturer. Perkins will complement its range of off-highway diesel engines by showcasing a further three engines highlighting future hybrid offerings. These new engines will be shown for the first time on the Perkins stand in Hall A4 Stand 336.
"Perkins offers an industry-leading choice of world-class engines and options, so our OEM customers can be confident that we have the right engine for their market and application," says Steve Ferguson, Perkins President.
"Whether it is our latest generation of Stage V engines, which meet the most stringent emission standards or a hybrid product, our engineering teams work side-by-side with those of the OEM to develop a bespoke solution."
Hybrid Engines
Over the years Perkins has significantly invested in hybrid engine research and development projects and at bauma 2019 are featuring a range of technologies that will add real value to OEMs as they design the next generation of off-highway machines.
Matt Coleman, Product Director, says, "For construction machines, it's not sufficient to simply carry over hybrid or electric technologies from other sectors such as truck, automobiles or marine. The duty cycles, operating conditions and packaging constraints for off-highway machines drive the need for specific configurations that are highly customized to the individual application. 
"Through our close technical collaboration with our OEMs, and using a huge amount of real field data, we can develop solutions which are truly relevant to the construction sector. By collaborating with Perkins, OEMs can accelerate their research and development programs, saving themselves time and money."
The hybrid-electric, hybrid-mechanical and hybrid-hydraulic power technologies being shown by Perkins complement the existing 0.5–18 L range of diesel engines, ensuring the company provides OEMs and their customers with machines that are more productive, quieter and have lower fuel consumption, whatever power solution they select.
EU Stage V
Perkins is displaying a range of engines that meet the new Stage V emission standards which are being phased in from this year, for off-highway diesel and mobile electric power engines across the full power range.
From the 1.7 L mechanical 400 Series at 18.9 kW (25 hp), to the new Perkins Syncro 3.6 L engine offering 100 kW (134 hp), the Perkins Stage V range delivers impressive power and torque from a compact package. Highlighting the breadth of the range, Perkins is showcasing a four-cylinder 1200 Series, designed for the electric power market. The engine delivers 120 kVA and meets Stage V emission standards for mobile generators. At the larger end of the Perkins range, the 1700 Series is a six-cylinder, 9.3 L engine offering 340 kW (456 hp), while the 2400 Series, will be shown for the first time at bauma Munich. The engine offers a powerful 430 kW (577 hp) and 2634 Nm (1943 lbs.-ft.)of  torque from a 12.5 L package.
Perkins Stage V technologies include common rail fuel systems, selective catalytic reduction (SCR), diesel oxidation catalysts (DOC) and diesel particulate filters (DPF). To highlight the compact and flexible nature of our offering, the high power aftertreatment system used on the 1200 Series will feature on the stand. To ensure duty cycles and workload are never affected and user productivity is always maintained, Perkins' engines use a regeneration process that runs automatically without machine or operator interruption.  
First choice for parts and service
For the first time, Perkins has a dedicated parts and service stand at bauma Munich in Hall A5, Stand 207. Machine owners and operators can visit the parts helpdesk; speak with the Perkins technical team; and meet representatives from its distribution network including BU Power Systems, the authorized Perkins distributor in Germany.
Digital solutions
bauma Munich 2019 will also see the continued promotion of the Perkins My Engine App, a free app available in multiple languages providing customers with easy access to value added data including service reminders and parts books.