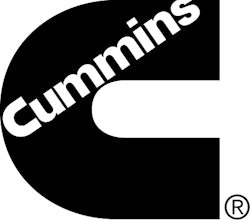 Cummins Inc. has reported results for the first quarter of 2019.
First quarter revenues of $6.0 billion increased 8% from the same quarter in 2018. Increased truck production in North America and stronger demand in global construction and North American power generation markets drove the majority of the revenue increase. Currency negatively impacted revenues by 2% primarily due to a stronger U.S. dollar.
First quarter sales in North America improved by 13% while international revenues increased by 1%.
"The company shipped a record number of truck engines in North America during the first quarter," says Chairman and CEO Tom Linebarger. "Our market-leading position in this region reflects our close partnerships with our customers who rely on us to provide a broad range of power solutions for their needs."
Earnings before interest, taxes, depreciation and amortization (EBITDA) in the first quarter were a record $1.0 billion, or 17.2% of sales, compared to $700 million or 12.6% of sales a year ago. First quarter results include a non-segment and non-taxable gain of $37 million ($0.23 per diluted share) related to the mark to market impact on assets related to our non-qualified benefit plans.
Net income attributable to Cummins in the first quarter was $663 million ($4.20 per diluted share), compared to net income of $325 million ($1.96 per diluted share), or $403 million ($2.43 per diluted share) excluding the impact of tax legislation in the first quarter of 2018.
"We achieved record EBITDA in the first quarter while also celebrating our 100th anniversary," Linebarger says. "We are on track to deliver record results for the year and return significant capital to investors, and will continue to invest across our broad portfolio to power a strong future for our stakeholders."
2019 Outlook
Based on the current forecast, Cummins is maintaining its 2019 revenue guidance of flat to up 4% driven primarily by increased demand in North America on-highway markets. EBITDA is expected to be in the range of 16.25-16.75% of sales, an increase from the prior range of 15.75-16.25% of sales, primarily due to lower projected material costs. The company expects to return 75% of Operating Cash Flow to shareholders in 2019 in the form of dividends and share repurchases.
Cummins' outlook does not include any potential impact of the company's recently announced review of its emission certification process and compliance with emissions standards.
First Quarter 2019 Highlights:
Cummins was named to Ethisphere's list of the World's Most Ethical Companies for a 12th consecutive year.
Barron's magazine announced that Cummins made its 100 Most Sustainable Companies list, moving from No. 60 in its inaugural ranking in 2018 to No. 14 in its 2019 list.
The Human Rights Campaign (HRC) announced that Cummins received a perfect score for a 14th consecutive year in its Corporate Equality Index.
Amtrak announced that it will be purchasing 75 Charger locomotives for delivery starting in 2021 which will use Cummins' QSK95 Tier 4 engine systems to help deliver clean, efficient power for passenger trains.
First quarter 2019 detail (all comparisons to same period in 2018)
Engine Segment
Sales - $2.7 billion, up 8%
Segment EBITDA - $438 million, or 16.5% of sales, compared to $286 million or 11.7% of sales
On-highway revenues increased 9% and off-highway revenues increased 6% primarily due to increased demand in North America truck and global construction markets
Distribution Segment
Sales - $2.0 billion, up 8%
Segment EBITDA - $171 million, or 8.5% of sales, compared to $123 million or 6.6% of sales
Revenues in North America increased by 10% and international sales grew by 4%
Strong demand across all product lines in North America, especially data centers, was partially offset by the unfavorable impact from a stronger U.S. dollar, which impacted sales by 2%
Components Segment
Sales - $1.9 billion, up 6%
Segment EBITDA - $325 million, or 17.5% of sales, compared to $227 million or 12.9% of sales
Revenues in North America increased by 17% due to higher heavy and medium-duty truck production while international sales declined by 8%
Power Systems Segment
Sales - $1.1 billion, flat versus prior year
Segment EBITDA - $138 million, or 12.8% of sales, compared to $142 million, or 13.2% of sales
Industrial revenues increased 1% while Power generation revenues decreased 1%
Electrified Power Segment
Sales - $3 million
Segment EBITDA loss - $29 million