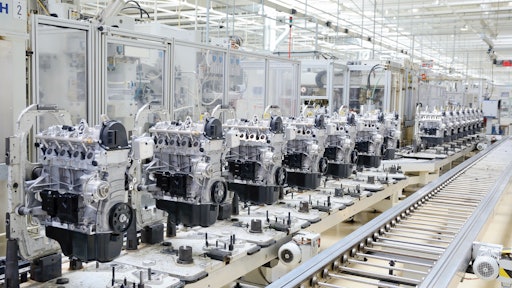 ©Hamik – stock.adobe.com

Manufacturers of heavy-duty diesel engines, commercial trucks and off-road engines and equipment are meeting expanded customer demands while continuing to navigate supply chain and other issues associated with the global COVID-19 pandemic. Sales of new commercial trucks and many segments of off-road equipment – nearly all with advanced technology diesel engines – continues to expand in 2021 over 2020, reflecting growing consumer demand and broader economic recovery.
"American-made heavy-duty diesel engines are the workhorse of the economy, fueling half the key U.S. economic sectors with proven, economical, efficient and near-zero emissions technology," said Allen Schaeffer, executive director of the Diesel Technology Forum, a not-for-profit association. "From agricultural, mining and construction equipment, to commercial vehicles, trucks, buses, locomotives, tugboats and other goods-movement equipment, diesel remains the powertrain of choice.
"According to WardsAuto.com, for the first 8 months of 2021, sales of the largest commercial trucks (Class 8) reached 146,552 units. Over 95% of these are powered with diesel engines. Forecasters such as ACT Research are projecting an 18% growth in sales of heavy-duty Class 8 trucks in 2021 compared to 2020.
"In the off-road sector, the Association of Equipment Manufacturers (AEM) reports that year-to-date farm tractor sales in the U.S. are up 13.3% with combines up 13.8%.
"The U.S. economy – Gross Domestic Product – dropped 3.5% in 2020, but now we are seeing reports of an increase in demand for advanced technology diesel engines in key sectors. Forecasters such as Power Systems Research (PSR) are projecting 2021 production of off-highway products to increase 9.5% compared to 2020.
"Demand for diesel power continues to grow, even as manufacturers explore hydrogen, electric and other alternative technologies that are expected to compete with diesel in the future. The growth in diesel engine manufacturing is a clear indicator of the importance and future for this technology. U.S.-based heavy-duty diesel engine manufacturing facilities are producing the latest new-generation diesel technologies, which not only are near-zero emissions but also lower in greenhouse gas emissions and consume less fuel."
Thirteen states are home to heavy-duty diesel engine manufacturing, with North Carolina producing more than one-in-three U.S.-made heavy-duty diesel engines. Other key states include Indiana, Ohio, Michigan and New York.
Diesel-related jobs totaled over 253,000, with wages and salaries above the national average and a job-growth outlook of 5% each year, according to the U.S. Bureau of Labor Statistics.
The agricultural, mining, construction, and transportation and logistics industries are directly dependent on heavy-duty diesel engines. According to the U.S. Bureau of Economic Analysis, these diesel-dependent industrial sectors have grown by anywhere from about 1% to over 10% in 2021 compared to 2020.
A look through the forum's searchable, state-by-state database further shows how diesel is the workhorse of each state's economy and transportation systems. This resource identifies each state's diesel-related manufacturing and jobs; number of renewable fuel producers and stations; diesel fuel consumption; and population of diesel-powered commercial trucks, marine vessels, transit and school buses, and passenger vehicles.
Beyond manufacturing, each state's economy benefits from large workforce and training sectors dedicated to servicing and maintaining diesel engines, vehicles, equipment and fueling operations, along with the public and private services they provide that can be found in every community.